Good things come in trios! New, dynamic shades with 30% more pigment and pearl for ultra-impact color. Colorful, trendsetting shade extension of our Color Icon™ Eyeshadow Trio Family. Each trio contains three complementary shades in long wearing, blendable colors. Shades are embossed with "eyelid," "crease," and "browbone" to provide an easy "how to" guide.
Lets Get Started
We're Blasting Off
Browbone: Matte baby pink with white reflects
Crease: Dark burgundy brown with pink reflects
Eyelid: Shimmery pinked taupe
It might be one of my favorites in this collection and though some of the colors (the Crease and Eyelid colors) are similar to other palettes, it's worth it for the Browbone pink shadows. If you love pink eyeshadow like I do, the baby pink is a must-have.
Dancing In The Clouds
Browbone: Shimmery champagne
Crease: Satin violet purple with a very slight blue duochrome finish
Eyelid: Shimmery pinked copper
This one is very likely to be the most popular in the collection. I love the Browbone and Eyelid colors. However, I was slightly disappointed in the purple. It's not as pigmented as I was thinking it'd be.Must Apply a Heavy Base, For Color to Appear well.
Earth Looks Small From Down Here
Browbone: Shimmery golden olive green
Crease: Shimmery navy blue with blue reflects
Eyelid: Bright shimmery green
This palette is lovely. While the navy can be found in other wet n wild palettes, the olive green and bright green are both totally unique and beautiful. Very Pigmented .
Fly Me To The Moon
Browbone: Frosty sheer white
Crease: Matte black with silver reflects
Eyelid: Satin bright blue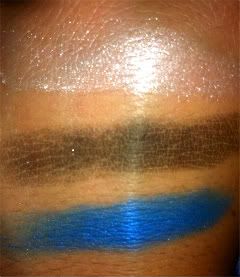 This palette is 100% worth it for the blue alone. Seriously...The black is crazy pigmented too but the white is on the sheer side. I personally like the sheerness of it but if you want it to be more opaque, simply use a white base and pack the color on. Problem fixed! I LOVE this palette though
Enter A New Realm
Browbone: Metallic silver
Crease: Matte black
Eyelid: Satin true red
Wet N Wild is one of the only drugstore brands that carries a true red eyeshadow so if you're a red lover, definitely pick this one up! My prediction is that it'll be one of the customer faves along with dancing in the clouds. It is truly gorgeous. All of the shadows in this palette are amazingly pigmented.
Bright Idea
Browbone: Shimmery sunny yellow
Crease: Shimmery lime green
Eyelid: Shimmery bright bubblegum pink
If you like brights, you won't want to miss out on this one.. All of the colors are smooth and pigmented...just perfection!
Thoughts-
I love these! I've said it before a million times by now, but I am more and more impressed with Wet n Wild with each collection they put out. To me these are the perfect little palettes to collect since they are fun, work well together and great payoff for the price.
My personal favs here are

Dancing In The Clouds, Earth Looks Small From Down Here, Bright Idea

and

We're Blasting Off.
Availability: Mid-July for a limited time only!
Pricing: $2.99 each