Hi Glam's I'm back to talk about organic beauty with y'all. I was recently introduced to Benecos , a natural cosmetic company made in Germany . Wanna find out more , then keep reading !
What Is It
Benecos is a young label with a mission to bring a breath of fresh air to natural beauty.
Benecos was founded in Germany at the end of 2008 with the goal of making high quality natural cosmetics available to ALL. The name Benecos stands for good cosmetics (Lat.bene=good).
Now, affordable prices and high quality natural cosmetics no longer need to be a contradiction. A thoughtful approach makes it possible: focusing on the essentials, while minimizing packaging. Omitted are unnecessary cartons, custom containers, jars, bottles and outer decorations. Instead of big, expensive advertising campaigns Benecos uses communication at the point sale, and word of mouth marketing.
Benecos surprises with quality products, fashionable styles, current trends, modern design and certification to the BDIH standard, the pioneer Natural Cosmetics certification body in Germany.
Because Benecos charges a reasonable consumer price, it is a real alternative to cosmetic brands from the drugstore.
What I Recieved-
The perfect gift or a little treat for yourself — the Benecos Glamour Set is a great introductory kit into the world of natural cosmetics. BDIH certified natural, affordable and provides a natural beauty introduction! Set includes:
Benecos Natural Duo Eyeshadow - Melange

Benecos Natural Eye Liner - Bright Blue

Natural Multi Effect Mascara
Pigment and Texture
Benecos Natural Duo Eyeshadow - Melange-(Sliver Purple Shade)-This product is a natural backed shadows , the texture is hard but not gritty or chalky at all it rather smooth . The pigmentation is very well , the color pay off is spot on , what you get in the package is what it will look like on your eye , there was some fall out with this shadow, but nothing major , but since it is all natural the formulas are difference , which make a difference consistence then your typical shadows .
Benecos Natural Eye Liner - Bright Blue-Intense pigment, creamy texture that doesn't drag or pull. Great for creating smokey eyes.
Benescos Natural Multi Effect Mascara-This is a very wet formula mascara, with a normal mascara wands , this mascara does give get volume and extends the lashes give alot of length , but since the formula is a wet consistence your lashes can stick together
( Apply one coat & let dry before apply another)
Staying Power
Benecos Natural Duo Eyeshadow - Melange- I wore this eyeshadow with and without primer, let start with primer , I applied a primer all over the lid , since I have oily eye lids a primer is key for me , I wore this shadow for 10 hours with a primer , and it has great staying power, I didnt have any creasing , fading or anything , the color looked the same as when I applied it in the early A.M, next on to how the eyeshadow worked without a primer, well it was a 50/50 throw down for me, I did see creasing to the shade and minimum fading but nothing serious that would ruin your eye look , but i think you can get away with the product not using a primer , it just a matter if your skin is oily/combo or dry.
Benecos Natural Eye Liner - Bright Blue- All. Day. Long. This eyeliner will last you all day and night. As far as I can tell, they are completely unaffected by tears and sweat. They can be a bit annoying to take off at the end of a long day, make sure to use makeup remover or Vaseline so you don't pull at your eye too much.
Benescos Natural Multi Effect Mascara-Mascara is an indispensable item for me especially when I want to look more polished. Actually, it was the first make-up item I experimented with the most when I was still a youngster This mascara has long wearing with 15-hour staying power. No smudging & causes no irritation to your eyes.
Leaves your eyes big, wide, sharp & gorgeous.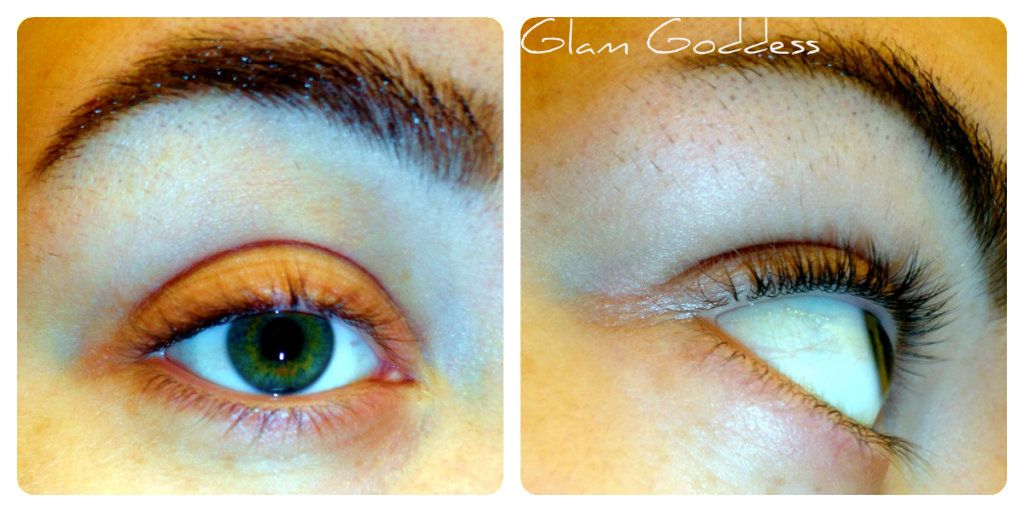 No Mascara- Naked Lashes
One Coat Of Mascara
Two Coats Of Mascara
Packaging and Price
Benecos Natural Duo Eyeshadow - Melange- I really enjoy the packaging for this product , it is a clear flip top container , what I love is that you can see the product so you no what the exact color is before hand, with labels on the back telling the name and everything , I think that is very helpful when buy a product.
Benecos Natural Eye Liner - Bright Blue- One thing I do love about this eyeliner packaging is it had the color coated label on the end so it easy to find , this is like most eyeliner , come in a sleek black pencil form( sharp-able ) with a black cap .
Benescos Natural Multi Effect Mascara-The packaging is like any mascara , normal mascara packaging with the mascara wand , also with the label on the black mascara tube in pretty pink writing .
Price~$ 39.00 USD ( Glamour Set Eyes)
- U CAN BUY THESE PRODUCTS SEPARATE
Benecos Natural Duo Eyeshadow -$12.99 USD
Benecos Natural Eye Liner -$8.99 USD
Benescos Natural Multi Effect Mascara- $16.49 USD
My Thoughts- I am head over heels for Benecos line of cosmetics, and I cant wait to try the other natural products.I love not having to worry about putting chemicals and toxins on my skin and using high quality products that are good for you to wear . I really enjoyed everything I got to try from Benecos.
**These products were sent to me by

Benecos

for review, I did not purchase these myself. However, this is my own opinion and experiences with the products.**
Please stop by me social media's
Business Inquiry- Bregal89@yahoo.com
Have you tried Benecos before ? What are your favorite all natural products ?