Yet another haul ....check out what I got !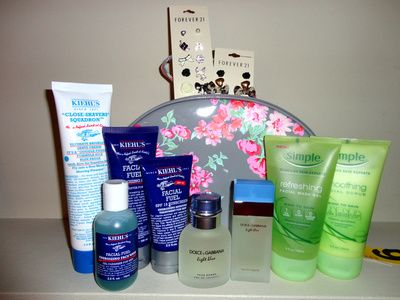 Of course I had to go to Forever 21 since I;m a sucker for jewelry, I had to have these, I love the fact that the one are earring that dont match , since that a big trended right now .. how cute is that , and then i had to have the leopard bow, so glad I found these, and finally I have been looking for a purse type make up bag and found this cute floral one for one 6 bucks. SCORE.
Fiance's Pick-I recently suggested that he should buy good shaving and facial face wash , that will help his skin and help against break out and oil , so he got Kiehl's Facial Fuel Scrub, Moisturizer &Cleanser. What are your favorite Kiehl's products?
Simple Refreshing Facial Gel & Smoothing Facial Scrub- Ive been wanting to try this brand out since I found it in my local drugstore, ive heard great thing about it and how it really help oil skin and how is very soothing to people with senstive skin , so I hope that it works good for my skin type.
Enjoy ! What Did You Pick Up These Weekend ?