Nail Art Cracking Base Coat
No cracked nails without this top coat! you can create the cool cracked look on your nails with these two nail cracking top coats, available in black and white. simply apply on top of the nail cracking base coat and watch as a stylish nail design appears in a matter of seconds! the start to the spring season has never been as trendy and casual!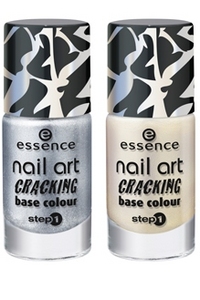 Nail Art Cracking Top Coat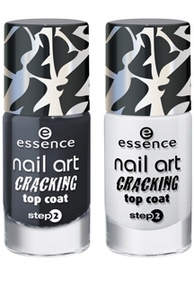 Ultra Strong Nail Hardener Pen
do you feel like giving your nails a small boost of power? the nail hardener in a practical pen-shade now ensures ultra strong nails whenever and wherever you go! its innovative formula with a formaldehyde and calcium complex is absorbed very quickly and provides brittle nails with the necessary nutrients. for well-groomed, strong nails that don't need to shy away from manual work!
Gel Liners
Special occasions require special eye make-up products: which now also include the new gel eyeliner by essence! its ultra-smooth gel formula allows an accurate application similar to liquid eyeliner and ensures a particularly silky finish in various effects ranging from matt to shimmering. simply dip the special gel eyeliner brush by essence into the pot of gel eyeliner and effortlessly paint a perfect eyeline that is quick to dry, ultra long-lasting as well as smudge and waterproof! for an eye-catcher with fascinating intensity!
available in four colors.
Black(Midnight in Paris)
Brown /Purple(London Baby)
Grey/Blue(Berlin Rocks)
Teal(I Love NYC)
Glam Liners
The new glam liner ensures a glamorous appearance wherever you go! it contains shimmering pigments to reflect the light for a unique interplay of colors with ingenious effects! liquid but quick to dry, you're sure to achieve the popular glam style in a flash thanks to the ultra-accurate applicator.
available in five colors.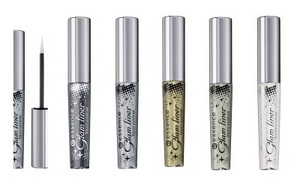 Black(Just Classy)

Sliver(Sage Diva)

Bronze(Royal Splendour )

Clear(Dresscode Ivory)

Grey(Rising Star)



Smokey Eye Brush
now you can create smokey eyes as easy as 1,2,3: the soft, rounded bristles in a trendy, intense purple color ensure an even smoother eye shadow application for breathtaking smokey eyes! comes in a practical pouch.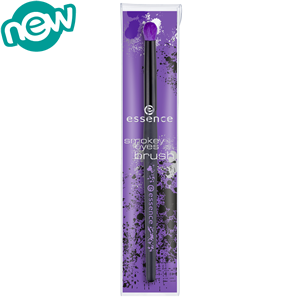 Sun club Glamour To Go Eyeshadow
summer, sun, the beach and the ocean – can life get more beautiful than this? oh yes! with the new eyeshadow palettes by essence sun club. they each contain eight gorgeous new colors for ultimate glamour and style. thanks to the practical mini-format, they are a loyal companion when you're on-the-go, too! trendy colors from yellow to orange and blue as well as expressive contrasting colors in black, grey and brown are sure to give any look the desired wow-effect.
available in 01 south beach and 02 long beach.
What Are Your Favorite Essence Product?
**Note... I cant wait to try these product out and do a review .