Hello!! So since the weather has been so nice lately, i have been shopping more, and that bad :-/ but anyways i have been on a mission to find the new Milani Baked Shadows, well no luck but I did find some other goodies.
First off, I went to the local grocery store in my area , and picked up Essie nail polish in Coat Azure( Cream pastel blue, with sliver undertones) found it for only $5 bucks ..SCORE. , also pick up two other Essie polish for a beauty store, got Your Hut or Mine(Salmon cream pink with pink undertone) & Bahama Mama( Deep Wine )both only $4 bucks,Essie polish is amazing, it one of my top favorites, they have so may colors and the formula is great .
L-R Bahama Mama-Your Hut or Mine &Coat Azure
Next up I pick up Hard Candy Take Me Out Liner , I got Soy which is a deep black & Luxe a pretty eggplant color, I got these bought from Walmart , there about $6 dollar and they come in many colors, there a pretty soft creamy liner, perfect for either the lower or upper lash line. Im a sucker for Hard Candy product because of there packaging.
Today , I was at CVS, hoping I would find these Milani baked shadow, but instead i had a ton of coupons for Revlon 6 dollar off and 3 dollar off, so I got Revlon Age Defying Spa foundation in light pale, and it has SPF in it which is a plus , the great deal breaker is that it was 75% off, I got it for 2 dollars, then I got Revlon Colorstay Blemish Stick Concealer in fair, I used my $3 dollar off coupon, i have heard great thing about the whole colorstay line, so Im hoping this works great. also picked up the Milani Back Blush in Luminoso ( pale pink with a glow) these are one of my favorite blushes, they work great and there not chalky or really powdery, there I think 7 different shades, Dolce Pink and Red Vino are my fav, I got this blush for only $3 dollar had a $5 in CVS cash...DEALS DEAL DEALS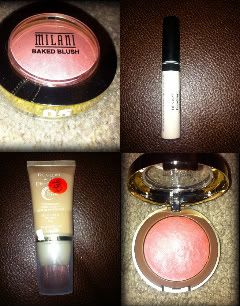 This is a really big deal too me, and im sure to a bunch of other makeup junkies out there, since mid May I have been look for the LE Wet N Wild Everything Under the Sun Bronzer and Glided Age, so the other day I was At Jewel(store in my area) and i had a gut feeling they where there, and as I turned the corner, there they where I was so excited, i finally found them , Wet n wild, color trios are amazing , and i new i needed them cause they where LE. They both cost of $2.99 I cant wait to do FOTD with them=]

The 3 mini baskets in the picture about where from Target for $1 , though they where super cute for makeup and other goodies!!!
What goodies did you pick up this weekend?