Nude and Neon
"Nudes and neons are the biggest trends for summer and they were all over the runways," says manicurist Ashlie Johnson, who works with Liv Tyler, Gwyneth Paltrow and Kristen Stewart. "I've been loving an opaque nude on the hands paired with an amazing fluorescent tone on the toes."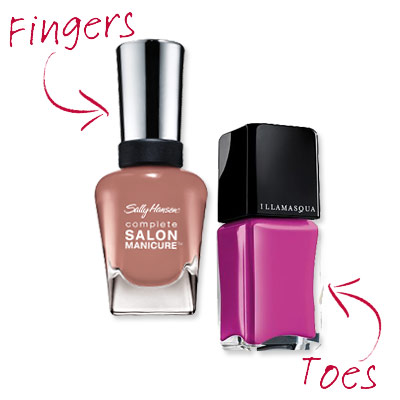 Sally Hansen Complete Salon Manicure nail polish in Nude Now and Illamsqua Nail Varnish in Obsess
Simple Pastels
Not all of us are major risk-takers. "You can't go wrong with pastel nails and there's no precautions to follow," says Ji Baek, owner of Rescue Beauty Lounge in N.Y.C. One word of wisdom? "Cooler tones like greens and blues do look best on the feet while warmer tones like peach and pink work on hands."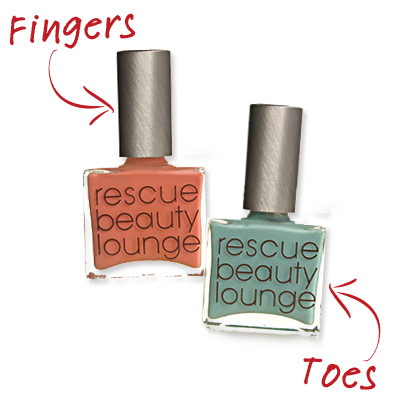 Rescue Beauty Lounge nail polish in Starfish-Patrick and Rescue Beauty Lounge nail polish in Bikini Bottom
Colorblocking
"If you want to jump onto the color-blocking wagon but don't want to fully commit with new clothing or accessories, why not try it on your nails?" says Baek. She likes lemon yellow paired with vibrant coral or violet and deep navy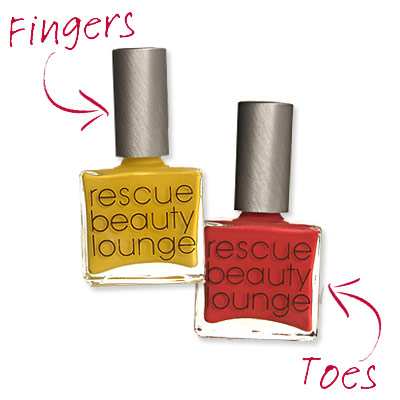 Rescue Beauty Lounge nail polish in Yellow Fever and Rescue Beauty Lounge nail polish in Coral
Mint and Silver
"Pairing a full coverage, opaque shade with a silvery shimmer gives your look an overall edgy without going too far," says manicurist Jenna Hipp, who works with Michelle Williams, Zoe Saldana and Lea Michele, among others. "When worn together, these two shades have a vintage-y feel that's still somehow futuristic."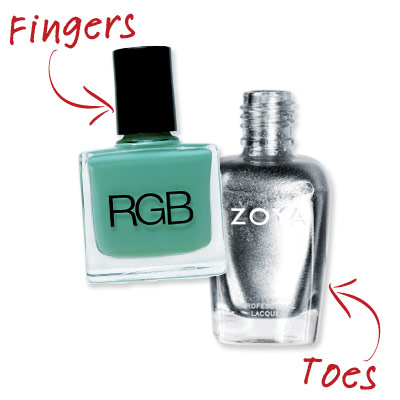 RGB nail polish in Minty and Zoya nail polish in Trixie
Ocean Shades
"Try a sheer, sandy hue on the hands and let the toes do all the talking with a deep, sea blue that has a hint of shimmer," says Hipp. "Both shades look best in direct sunlight, which is all the more reason to hit the beach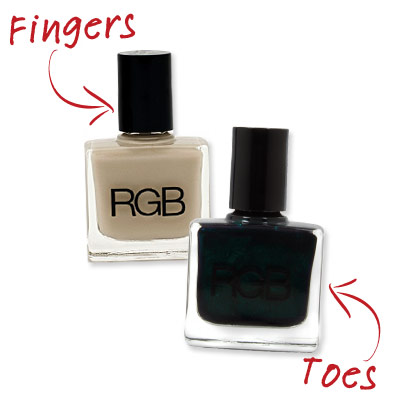 RGB nail polish in Buff and RGB nail polish in Sea
Shades of Blue
"In the summer, I like to give my clients something fun on the toes and maybe even go a little overboard," says manicurist Lisa Logan, who works with Beyonce. "The fingertips should subtly hint at the color that's on the feet.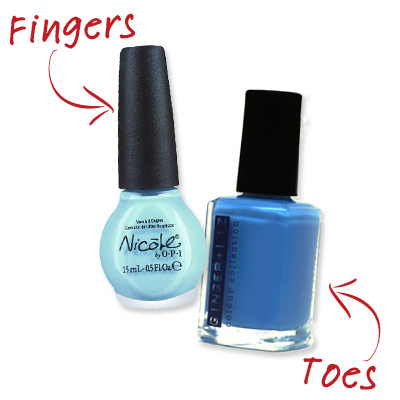 Nicole by O.P.I. nail polish in Baby Blue and Ginger + Liz nail polish in Chase Me
Complementary Tones
"A great way to freshen-up your nails for summer is to ditch the matching mani/pedi duo for two different but related colors," says manicurist April Foreman, whose clients include Natalie Portman, Anne Hathaway and America Ferrera. "I prefer the darker shade on the toes, but honestly, anything goes."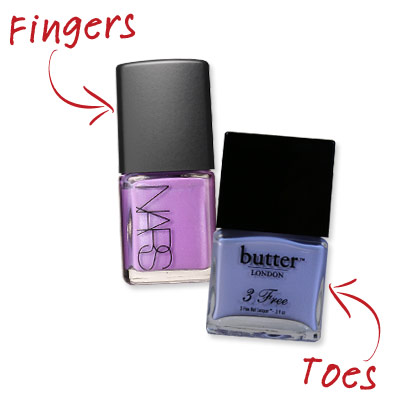 NARS nail polish in Pokerface and Butter London nail lacquer in Muggins


Creamy Hands and Risky Toes
"Taking a risk this time of year is really important," says manicurist Deborah Lippmann, who works with Mariah Carey, Julia Roberts and Sarah Jessica Parker. "Try a brighter shade and you might be surprised how happy it makes you." She's been opting for beige nails instead of pink on the fingers and hot orange toes, which look great with a tan.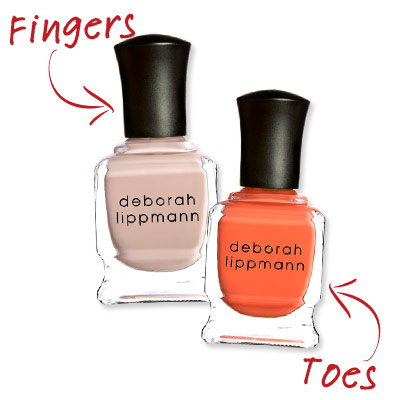 Deborah Lippmann nail lacquer in Naked and Deborah Lippmann nail lacquer in Lara's Theme
Deep Shimmer
If you have deeply tanned or naturally dark skin, Hipp has the perfect shades for you: A mellow bronze and a rich espresso. "The duo literally creates a goddess effect and makes you feel like you're dipped in luxury," she says. "Both formulas contain gold undertones which are slightly metallic without being too showy."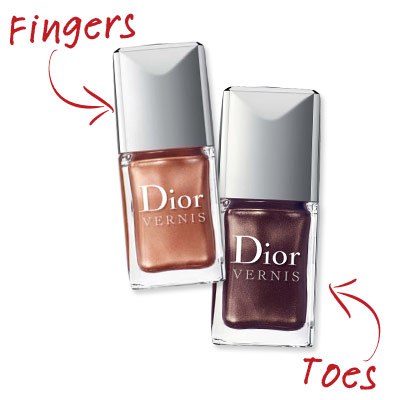 Dior Vernis in City of Gold and Dior Vernis in Aztec Chocolate
What Are Your Favorite Nail Polish Combo?