David Yurman Lantana Rubelite and Diamond Earrings
When the mercury rises I like my jewelry to be as colorful as my print dresses. These extra special
David Yurman
earrings would be ideal with their golden shrubbery and pink flowers of rubelite. The famed cable jewelry designer is also a serious rock hound—he scoured the world to find this one-of-kind set of stones. The look is cool as a summer cocktail.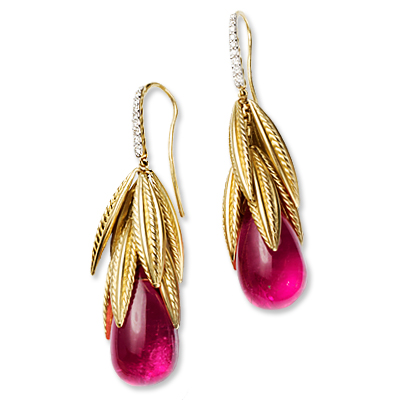 Price Upon Request-
Pomellato Victoria Jet and Rose Gold Earrings
When Prince Albert died in 1861, Queen Victoria mourned her beloved in gorgeous jet jewelry. Her passion for the sable-hued material found on England's coastline inspired women who had not even lost a loved one. Today jewelry is back in black. It provides a strong contrast to any color statement and I could build countless $3.600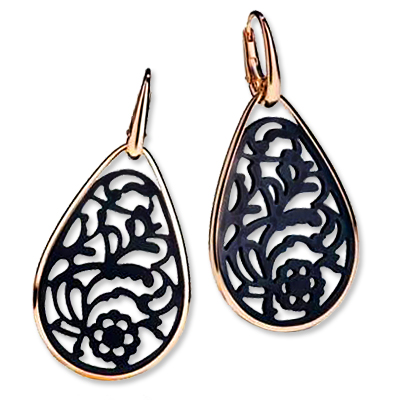 Missoni Necklace
I was one of those students who always insisted that I'd never use geometry after high school, but this statement piece is going to make me eat my words. Incorporating the industrial shape of chain link as a counterpoint to artfully braided fabric, the Italian brand has translated the graphic appeal of their textured knitwear into a necklace that will work with just about every summer outfit I own. Problem solved! $655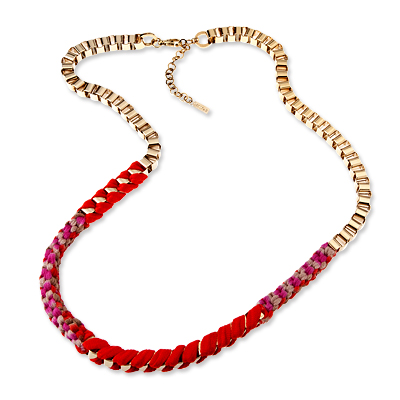 Chopard Animal World Duck Ring
Donovan Hohn's best-seller
Moby-Duck
is the author's real adventure tale as he travels the world to discover the fate of rubber ducks that slipped off a container ship in 1992. The marvelous book manages to cover everything from environmental concerns to the symbolism of the sweet children's toy. It is as epic as this
Chopard
rubber duck ring decorated with hundreds of stones, including 618 yellow diamonds, 66 amethysts, 132 tourmalines and 104 sapphires. In my mind, the major jewel is a fitting tribute to those mighty ducks.
*** So FLIPPIN CUTE**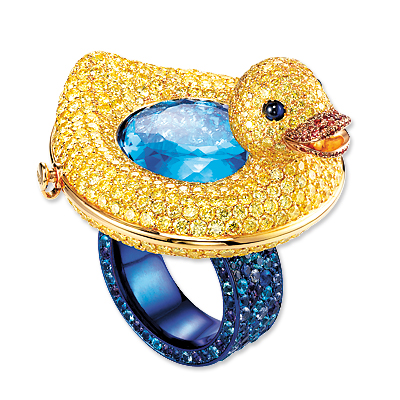 Price Upon Request
Mikimoto Cultured Pearl and Diamond Ring
Chinatown is one of my all-time favorite films. The 1974 thriller has a spectacular story, but what really grabs me every time is the way Faye Dunaway wears jewelry on-screen. The look is cool-glamour with deluxe diamonds, gems and pearls. I have wanted a pearl ring ever since I first saw the movie ages ago and this Mikimoto design would fit the bill perfectly.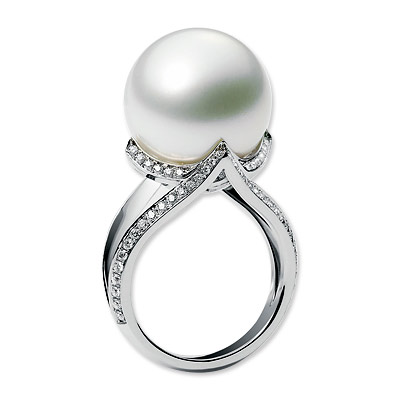 Chanel Feather Bib Necklace
Some nights, it's just easier to leave the jewels in the vault. When you do, try making your statement with this feathered bib instead. I love the magpie effect of the chains and crystals sprinkled among the black and white plumes. $5,900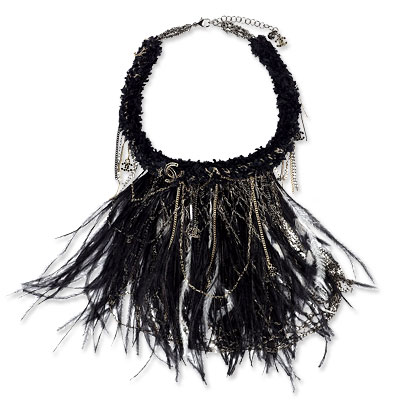 Calvin Klein Collection Enclosed Heel Sandal
Calvin Klein's Francisco Costa knows that subtle can be sexy, hence his understated approach to the statement heel. Coral-hued goat leather and sleek wood are the earthy elements that Costa combined with the cool lines of Lucite to form one gorgeous pair of summer stem wear.

$1,950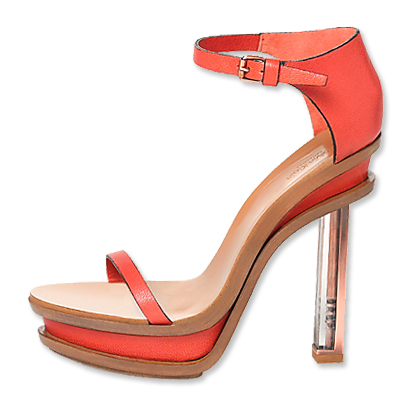 Christian Louboutin Misfit Heels
If you're restricting yourself to one new pair of shoes this fall (hopefully not, but let's consider worst-case scenarios), this pair of ankle-strap platforms packs many of fall's most coveted trends into a single purchase. Tassels and kiltie details? Check. Nude suede? Check. A 6-inch stiletto heel? That's always in style.

$1,425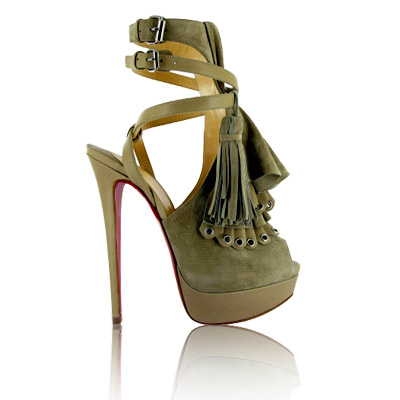 Burberry Prorsum Leather-Trimmed Trench
This British brand is famous for its trenches, an item head designer Christopher Bailey reinvents each season. I don't know how he manages to come up with new concepts each time, but as this leather-accented version ably shows, his creative well has yet to run dry.

$2,995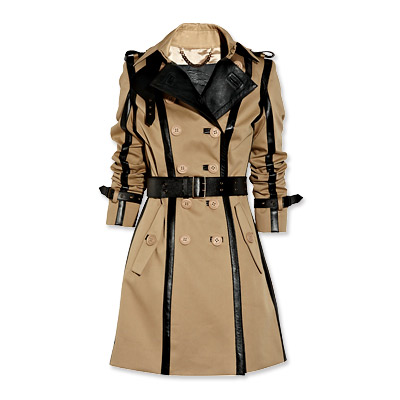 Richard Nicoll Silver Denim Skirt
This snazzy little number is just what you need to make your workday interesting. The slim, clean-lined silhouette is an office-wardrobe classic, obviously. But by selecting a version with a liquid silver patch on the front and an adorable grosgrain ribbon belt, you clearly show you have more style and flair than the average pencil pusher.

$792.05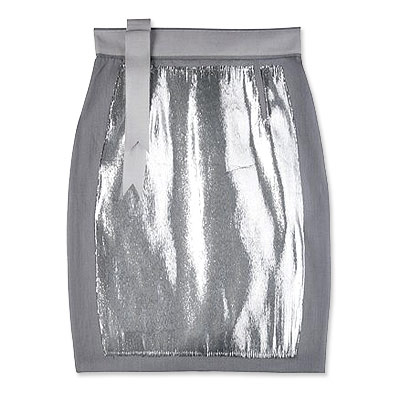 Valentino Sequin-Embellished Top
This black-and-white tee is probably as close as Valentino will ever come to punk rock. Dripping with sequins and diamante-encrusted tulle and edged with frayed satin ribbon, it's edgy meets lady and totally ready for clubbing—nightclub or country club.

$790



Fendi Asymmetric Top
Yellow is one of my favorite colors. It never fails to perk me up (something to do, I'm sure, with it being so sunshiny). I'm equally enamored of bows and ruffles. That this sleeveless crepe de Chine blouse combines all three elements in one garment makes me the kind of deliriously happy I usually only get when a Jason Bateman sighting is involved.

$990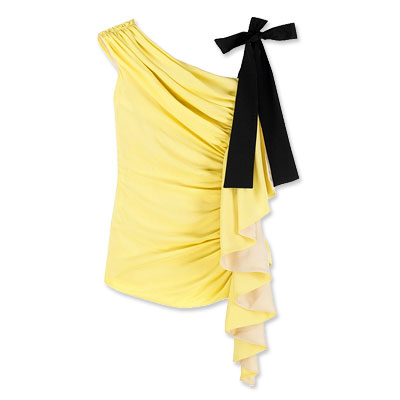 VBH My Precious Clutch
Bruce Hoeksema's bag designs attract attention—but not in the gaudy manner of
Footballer's Wives
or the
Real Housewives
. The sleek shapes don't compete with the exotic materials (this clutch is constructed with stingray and ostrich), and neither will make you stick out, only stand out.
$1,950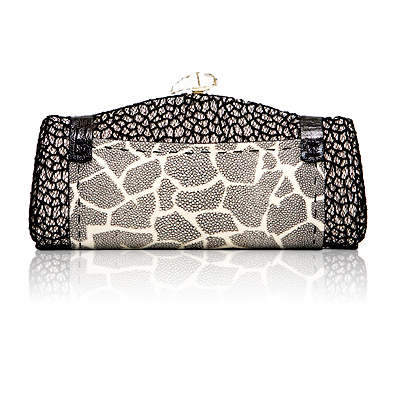 Ralph Lauren Pink Pony Collection Ricky 33 Bag
At first it may feel slightly self-indulgent to treat yourself to a handcrafted purse made entirely of fuchsia alligator skin. But when you discover that 100 percent of the sales proceeds of said handbag go to the Polo Ralph Lauren Foundation's Pink Pony Fund, which supports cancer research and treatment, well, it almost seems selfish not to purchase this limited-edition Ricky. And while you're in a generous mood: If you text PINKPONY to 501501 during the month of October, $10 will go to the Fund as well.

$16,995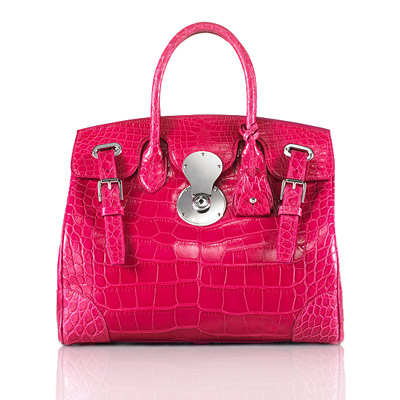 Christian Louboutin Giuletta Python Shoulder Bag
And here you thought he was only about glamorous, drool-inducing shoes. But no! Christian Louboutin can also transform the humble day bag, normally used to schlep one's essential stuff (iPhone, keys, wallet, sunglasses, makeup, etc.) from car to office to appointment and so forth, into an item of envy. Maybe it's the braided gold metal handle. Or the interior lining, in the same signature red as Louboutin's iconic soles. Clearly the vast swatches of rosy bronze python skin go a long way towards elevating this purse from haul to haute. Whatever the reason, everyday errands just got exponentially more fabulous.

$2,595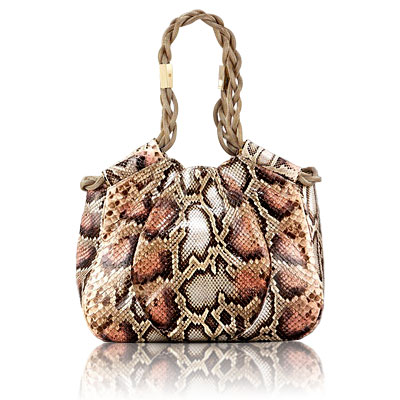 Anita Ko Gold and Diamond Wing Ring
Hip girls in Hollywood love Anita Ko's cool jewels. Rachel Zoe lives in Ko's bracelets. Jessica Simpson has flaunted the designer's dazzling diamond hoops. And Dakota Fanning paraded down a red carpet in a pile of Ko's little gold pyramid bracelets recently. My favorite piece in the designer's vast collection is the gold and diamond wing ring. The diamond encrusted jewel soars across two fingers like an angel mid-flight.

$5,950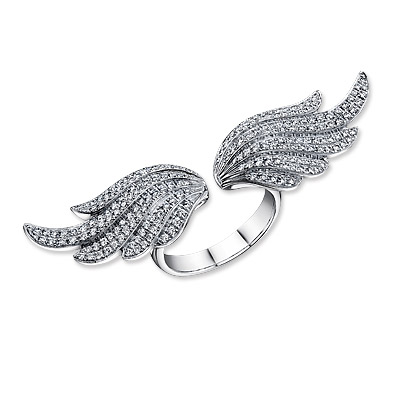 Sevan Rose Ring
I adore flowers as much as the next girl but always find it a little sad when the inevitable happens. That's why I prefer jewelry above all other romantic gestures; it never withers or fades. Turkish master jeweler Sevan's rose ring is the best of both botanical and bejeweled worlds. The stunning little corsage of eight roses (almost 2 inches in length) goes all the way up your finger. Be still my heart. Now if I could only get my man to think of it in a dollar cost averaging kind of way…

$16,56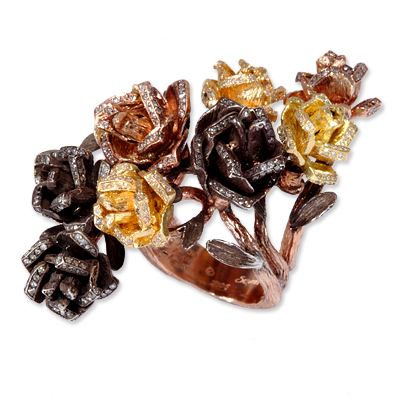 Bulgari Double Serpenti Pink Gold and Diamond Watch
Nobody does bravura like the Italian jeweler Bulgari. Bold is in their blood and archives. The firm has brought back and revamped one of their boldest designs ever, the Serpenti bracelet. Originally made in the 1950s, it featured flexible gold tubing that coiled twice around the wrist. Since then the design has taken some twists and turns. In the 1960s, Elizabeth Taylor flaunted one on the set of Cleopatra with a dazzling diamond snake-head. The new pink gold version is made for the modern girl with a watch in the snake-head position. It is both bravura and belissimo. It makes me want to be Italian!

$29,900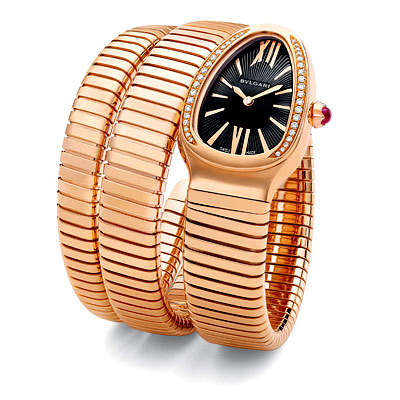 What Would You Buy If Money Wasnt An Object?