Who says looking beautiful has to take forever? Nothing freshens your look and gives a youthful glow like a natural flush… you know, like the kind you get after your morning run.
The timeless and vintage inspired Bésame Crimson Cream Rouge is the ideal for instant rosy cheeks and lips. Packaged in a vintage styled recyclable tin, this cream rouge provides a natural flush and perfectly stained lips. As with cream rouges of yesteryear, they were slightly thicker consistency, but still imparted a natural flush, no matter what your skin tone. Well Bésame has managed to take that vintage aesthetic and combine it with modern technology to bring a high quality product to the market.
What Is It
A concentrated cream blush/lip stain that will give you a natural flush,feels weightless and blends beautifully with any skin tone. Designed to stay on all day, Beasame cream rouge is sure to delight
Pigment and Texture
The texture is light and easy to blend. The cream is highly pigmented ,but the color blends down to a rosy sheer wash that looks so incredibly natural, and applies best using your fingertips. Just the mere heat from your body will melt the cream rouge under your fingertips allowing for a perfect amount of product to lightly liquefy and become the ideal amount for application to your cheeks and lips. Just dot on the apples of your cheeks and blend with clean fingertips out and up to create that just been kissed flush. Then the remaining Crimson Cream Rouge can be dotted on your lips and made into a stain or applied heavier for a full lipstick like effect. The universally flattering rouge revamps a traditional greasepaint formula with lighter waxes and botanical extracts, and the concentrated cream is actually designed to look most natural when layered on top of moisturizer and underneath foundation or powder
-The color was that of a blue based red with high intensity-
Staying Power
The Bésame cream blush , has a staying power like no other , It lasted on my cheek all day , even with high humidity and doing normal activities this product didn't budge at all I was super please about there, as far this product being a lip stain it was pretty well also , I didnt have to touch up once to give more color , but as far as the product being a stain it work great , it stayed all day as a great glossy stain to the lip to give that perfect natural lip color.
Packaging and Price
This lip and cheek stain takes its influences from the '30s, with a gold floral motif set atop a scarlet, red nickel-plated recyclable tin.Besame Crimson Cream Rouge retails for $22 USD and is worth every penny for this product , the thought and detail that went into this product is amazing, many people will probably thing this is very high in price for a cream blush , but it worth it for the amount of product you get, the quality and thought of this product is over the top is available at besamecosmetics.com.
What is special about this little rouge? Well lets find out and see.
Crimson Cream Rouge is a concentrated, long-lasting color cream modeled after the rouges from the romantic 1930's era that doubled as a cosmetic for use on the cheeks and lips.
Applied to the cheeks with a fingertip, it goes on as a silky, creamy color to create a natural, rosy look. Add a little more for a bolder, more enhanced look.
Never heavy or moist after application, it blends into the skin seamlessly.
Applied to the lips with a lipstick brush or the fingertip, lips are stained to a semi-matte finish for a pop of color.
The bright crimson hue has been carefully developed to be complementary with all skin tones.
Crimson Cream Rouge is formulated with the finest ingredients: olive, grape seed and jojoba oils for moisture and antioxidant properties, vitamin E, kaolin clay, and a natural cherry flavor. You can be rest assured that Crimson Cream Rouge provides a healthy and fresh-faced look while being beneficial to one's complexion.
Beautifully designed to look like a reproduction of the rouge containers from the 30s, the embossed tin with Bésame's signature chrysanthemums is made from 100% recyclable materials.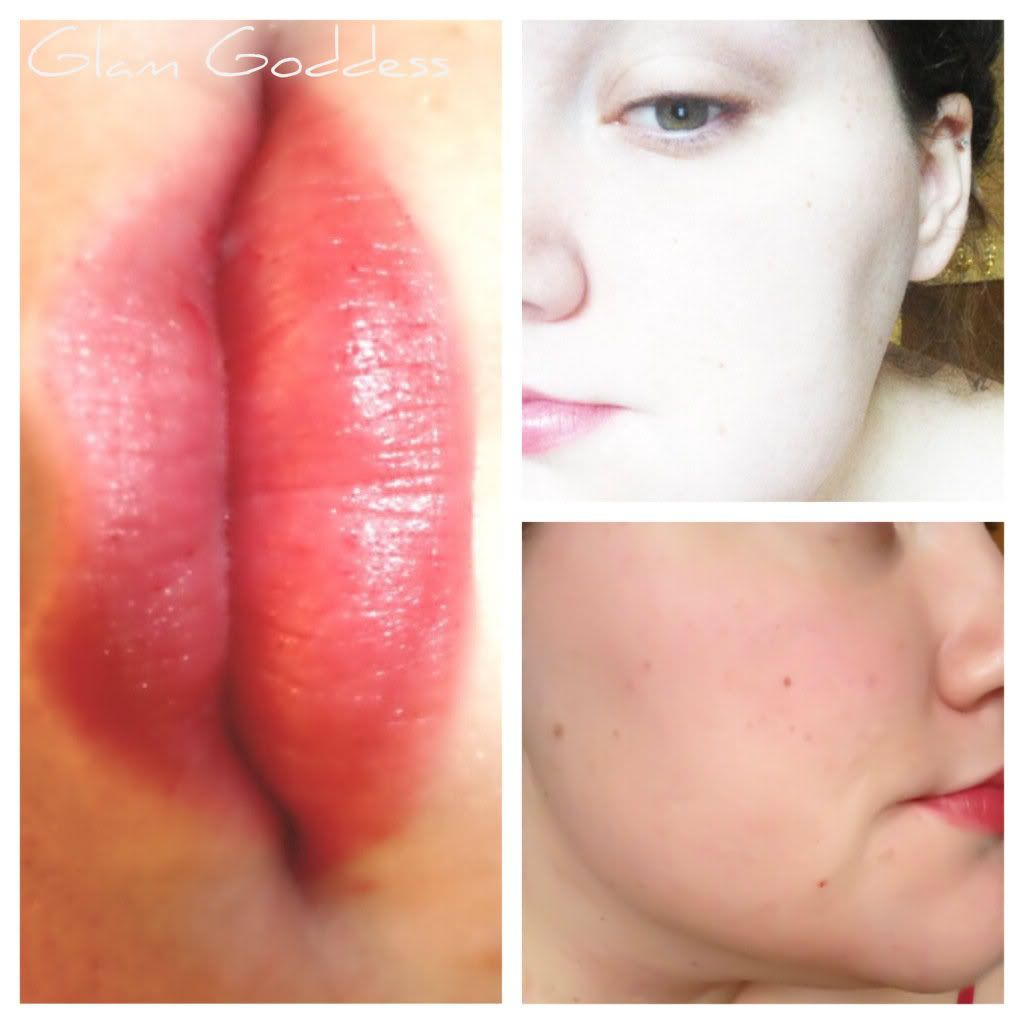 My Thoughts- Totally, Totally, Totally, love this. A few hours later it leaves my lips with a pink color which looks natural like my lips came back to life. On the cheeks it has a color that compares like if you had worked out (very natural looking blush). Did I mention I love this thing?!Also It's a great 'pick-me-up' when I'm too lazy for actually putting make up on. It adds coloration to my skin
- I was sent this product free to review-
Please stop by me social media's
Business Inquiry- Bregal89@yahoo.com

Have You Tried Besame Cosmetics Before ? What IS Your Favorite Product From Them ?