Happy New Years everyone!!!! Hope you all had a fun and safe New Years..Anyways let get on to Dec favorites... cause I have a lot of goodies :)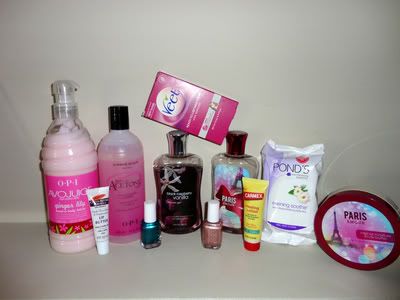 The first three things that ive been loving are from Bath & Bodyworks, I love that place, I dont think ive every met anyone that cant go in there and not purchase one or more things, anyways over Christmas weekend they had buy get 3 get 3 free on all signature collections! Rock On with that , so I got Paris Amour Intense Moisture Body Butter, Paris Amour Shower Gel & Black Raspberry Vanilla Shower Gel,
Paris Amour Intense Moisture Body Butter- This is a great product, I have really dry skin , and this help since it is a 24 hour nourishing intense body butter, you will feel softer smoother skin in 1 week .This body butter has Shae, Murumuru butter and nourishing coconut oil it also is super charged with exclusive intense moisture complex , pro vitamin, and vitamin B , C & E. This is a non greasy formula absorbs quickly, making it the perfect therapy to target your driest areas.
Notes-Beautiful blend of French Tulips, apple blossoms &sparkling pink champagne, inspired by a romantic stroll though the streets of Paris.
Paris Amour Shower Gel & Black Raspberry Vanilla Shower Gel- -This is a supercharged shower gel with benefits that make it the world's best daily luxury. It has been fomulated to provide the ultimate shower experience, pampering you with a luxurious lather, moisturizing Aloe Vera and nourishing Vitamin E that gently clean , soften and making your skin smell amazing.
Paris Notes-Beautiful blend of French Tulips, Apple Blossoms & Sparkling Pink Champagne, inspired by a romantic stroll though the streets of Paris.
Black Raspberry Vanilla Notes- Vined Ripped Black Raspberries,Drenched Vanilla Cream
Essie Nail Polish -I love Essie nail polish it is my all time favorite polish best formula ever I think , so the outer day when I was out I found some cool colors, I'm not sure if there new or not but I have never seen them.
Trophy Wife -Teal shimmer, and it applied very easily and is opaque in two thin coats
Buy Me A Cameo- Frosty metallic taupe/nude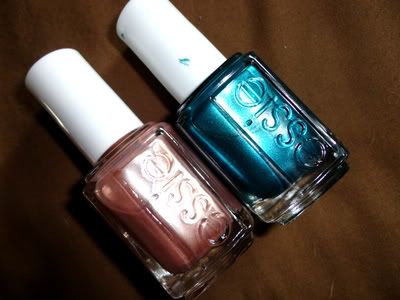 Veet Ready To Use Wax Stripes( Face)- I love this product , I wish I found it sooner. Veet waxing stripes are a wax strip that act like a liquid base when applying,this waxing strip coat hairs of any length,when you remove the sripe the wax lock in the hair for effective hair removal , these leave no redness or hurt feeling just come of smooth and easy . The result of smoothness at 4 weeks & get 29 wax strips in one box.. Ive used them twice so far and there my holy grail now, I will be buying these again
OPI Avojuice Hand & Body Lotion In Ginger & Lily-One of my all time spa/everyday lotions. This lotion is bursting with natural moisturizers to juice up your skin .Avojuice Ginger Lily treat your skin to a drink of smooth, rich moisturizers plus soothing Avocado and Aloe extracts-with a bright bouquet of fruit, ginger flower and lily. This is the most soothing lotion ever.
Carmex Healing Lotion- This is one of my favorite lotion to throw in your purse or take somewhere with you . If you know how Carmex chap stick works on your lip then you will love this product. This is a healing and moisturizing lotion with no greasy feel for all skin type, this will heal the toughest, driest skin .
Palmers Cocoa Butter Formula Dark Chocolate & Peppermint Lip Butter-This is my go to chap stick , it smells and taste so good you could eat it . Haha. This is a softening and soothing lip butter made from pure cocoa butter and vitamin E, you can wear this on it own or over a lipstick for that good feeling of smoothness on the lips , this is not a sticky lip product either, this is a great lip butter to use before bed and very refreshing .
OPI Pure Acetone Polish Remover- Best polish remover ever, if u can get this product I highly recommend it /The OPI Lacquer blaster! When removing dark polish shades or layers of nail art, this high-quality, ultra-purified acetone makes quick work of undressing nails. Caution: Do not use acetone to clean brushes and never use with Gel or Odorless Acrylic products.
Ponds Wet Cleansing Towelettes Evening Soothe-
Cleanse and soothe skin around the eyes, face and neck while relaxing
fragrances help leave the day behind so you can breathe deep and unwind.Soft
, textured cloth gently lifts away all traces of the day's dirt, make-up and impurities while calming the skin and releasing a relaxing fragrance of chamomile and white tea to help you ease into the night.
What Are Some Of Your Favorites This Month

?