Recently when I stopped by my local super market I came across some new Wet n Wild Color Icon Singles, So I grabbed all 8 off them , Wet n Wild has eight new Color Icon Shimmer Single Eyeshadows out and they are pretty amazing. Most of these shadows are shimmery but 2 have a matte texture. All have great payoff and are really nice colors.
Part of wet n wild's 2012 Cosmetic Collection, these beautiful new eyeshadow singles will be available in February.
Colors-
Unplugged
: a icy metallic bright white with a touch of sparkle; Color payoff is beyond amazing, no chalkiness what so ever.
Platinum
: a dusty metallic silver with a touch of sparkle; Light sheer sliver, but still good color for smokey eye.
Trashed
: a satin finish black with a slight sheen and silver sparkle; Rich in color
Panther
:
an incredibly deep true jet matte black .Now that a mouthful ;Amazing color , no chalky texture at all .
Sellout
:
a slightly shimmery bright, but wearable, pink with a touch of sparkle; The perfect color for anyone to wear.
Glamrock
: a shimmery lavender blue-tones purple; Wearable purple for anyone.
Stagedive
: a slightly metallic bright blue with traces of sparkle: Beautiful for spring.
Golddigger
:
a shimmery yellow gold with gold sparkle;Crazy soft and saturated
Thoughts-Totally impressed with all of these. I love these little singles because you can buy them ALL and not feel guilty because of the inexpensive price. The pigmentation is amazing, the shades are gorgeous, the price is fantastic, and Panther is one of the darkest black shadows I have ever come across! If you see these at your local store definitely grab them
Price:
$1.89 at my local Meijer's, I believe the price is the same most place or close.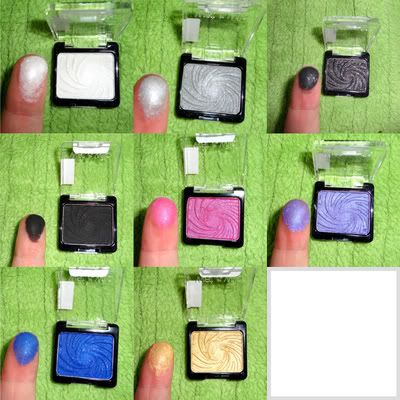 What Do You Think Of These? Will You be Being These?