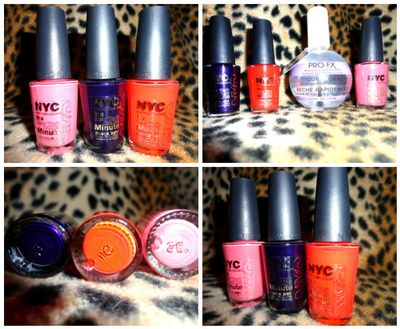 Since I had such good luck with these polishes before ,
Nail Polish Part 1
I thought id pick up a few more , but this time I went to Walmart and they where $1.49 with a 0.50 cent off coupon , so I couldnt pass them up , also when looking around I was on the hunt for a good top coat.quick dry so I ended up find the dupe for Seche Vite. Ive been so into nail polish lately , I could have bought the entire NYC Quick Dry Polishes :) since the price is so darn good, and I love pretty much every color they have! Keep reading to see what colors I got below .
NYC Quick Dry Nail Polish In 221 Spring Street- A deep tangerine orange , opaque in 2 coats . Cream Finish
NYC Quick Dry Nail Polish In 258 Prospect Park Pink- A p retty pink with a subtle, pearly sheen, Pearl Finish
NYC Quick Dry Nail Polish In 204 West Village-A dark blue/ purple with low levels of shimmer, Shimmer Finish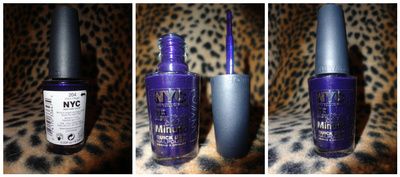 Pro Fx Quick Dry /Top Coat - Love This Product, I used it last night and WOW, I do no this is a awesome dupe for Seche Vite , which is my holy grail top coat, but with this you get 3x more product then normal top coat and of course you cant beat the price ($4.50)..anyways the formula is great , ant the package is pretty good also , it a gaint round ball with a with applicator that hits the bottom of the bottle to make sure you can get all the product out , this give you a mega shine on nail :) I cant wait to try out some other goodies from this line of products.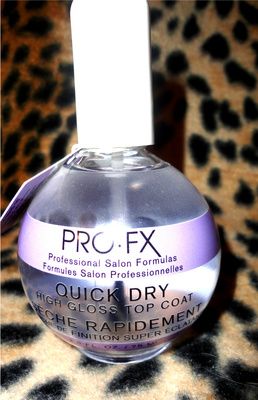 Have You Tried Anything From The Pro FX Line ? What Do You Think About NYC Polish ?