Malin and Goetz is a relatively new skincare brand, at least to me; the brain child of Matthew Malin and Andrew Goetz who established a family-owned and operated apothecary in New York back in 2004. Their philosophy is simple, identify the problem or skin care need and innovate formulas which interpret traditional apothecary formulas and enhance
them by using advanced ingredients. I also had the chance to have the company send me samples to try out there awesome product for my blog and facebook page

for a full review

.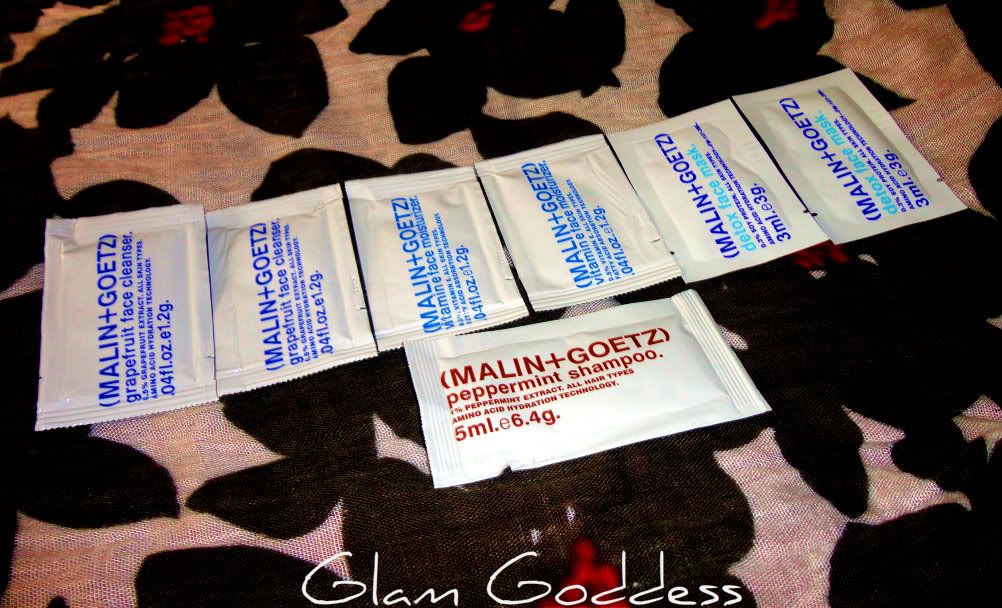 Malin + Goetz Detox Face Mask.-
What Is It -An easy five minute foaming gel mask: Innovative, oxygenating cleansing agents replace harsh detergents and drying clays to deep-pore-cleanse, lifting dirt, oil and make-up away from the skin without irritation, while creating a physical barrier to seal hydration. Complex amino acids and natural almond extract gently and effectively purify, clarify, balance and soothe. Stable Vitamin C, anti-oxidant Vitamin E and Soy Protein help firm and address concerns for aging. Natural fragrance and color ( Text From Malin + Gotez Website)
Pro's
- Most amazing mask ever.
- Brightens better than any brightening mask I've used
- Helps detox skin, bringing all the impurities to the surface
- Great for sensitive skin, gentle yet extremely effective.
Con's
Verdict-I love this mask.It's been described elsewhere as being like Alka-Seltzer for your face (it bubbles! it's the perfect hangover remedy!) and it's true. It feels spectacular when it is on, and it leaves my face feeling and looking brighter, happier, and just better.I have very oil skin that tends to react to a lot of products, so I was initially a bit hesitant to try this, but this product has honesty taking the oil for my skin and banished them .
Retail Price- 4oz/118ml ( $40.00)
Malin +Goetz Grapefruit Face Cleanser
What Is It-A foaming cleansing gel synthesizes natural grapefruit extract with amino acid-based cleansing agents. Unlike traditionally harsh detergents that can be drying, stripping and irritating, this formula gently and thoroughly purifies and hydrates to ph balance all skin types, especially sensitive. Rinses residue free, eliminating the need for a toner. Perfect make-up removal. Natural fragrance and color. Easily integrated into daily maintenance and prevention regimen. ( Text From Malin + Gotez Website)
Pro's
-Gentle for all skin types
Con's
-Did sting my skin the first time I used it
Verdict- I've used it ever day for a week now and really do like it. My skin is super oily and this cleanser is not overly drying nor does it leave my skin feeling heavy. It washes beautifully and leaves my skin feeling quite balanced - love that! I've used it with my hands and also used it with my Clarisonic. Great either way.At first I thought the price was a bit high but then compared it to my current cleanser of choice which is Boscia's Clear Complexion Cleanser. Ounce per ounce the Malin & Goetz grapefruit face cleanser is a better value.The number one must-have criteria I look for in a cleanser is the ability to take the day off, leaving no trace of oil, dirt or makeup behind. I finally found exactly what I was looking for with Malin + Goetz grapefruit facial cleanser , a refreshing and lightly scented product that leaves my skin feeling completely clean. The foaming gel cleanser is surprisingly gentle for something so effective, but it really does rinse away taking my makeup with it. Plus the fresh, citrus scent is a nice way to wake up in the morning.
Retail Price-4oz/118 ml( $30.00)
Malin +Goetz Vitamin E Face Moisturizer
What Is It- An oil-free, residue-free moisturizer scientifically synthesizes natural anti-oxidants vitamins E and B5 and soothing chamomile with absorbent fatty acids. Gently and effectively hydrates and ph balances all skin types, unlike traditionally greasy pore-clogging oils, for an intensely nourishing treatment, reducing epidermal irritation for the most sensitive of skin. Perfect foundation for immediate make-up application. Natural fragrance and color. Easily integrated into daily maintenance and prevention regimen.
Pro's
-Great for all skin types
Con's
Verdict-I love this product. It's my one of my new favorite moisturizers . I use a lot of serums, oils, peels, scrubs etc and sometimes I feel like my skin just wants something simple and uncomplicated - this is it. No irritants (for me), doesn't make me break-out and leaves my skin feeling well moisturized and soft but not shiny.A little does go a long way however. I barely need a dime sized amount of this stuff, this definetly does not leave any weird filim on the face, no stickiness or residue to been seen or felt. Finally what I have noticed is that red nice around my nose and cheek area it barely even there which I was so happy to see is gone !
Retail Price- 4oz/118 ml ( $45.00)
Malin + Goetz Peppermint Shampoo
What Is It-There best selling, gentle, hydrating shampoo synthesizes natural peppermint extract with amino acid-based cleansing agents. Effectively purifies and balances all hair and scalp types, unlike traditionally harsh detergents. Blended for frequent use without drying, stripping, irritation, or build-up. Mildly foaming, residue-free formula leaves hair soft and scalp conditioned. Natural fragrance and color. Easily integrated into daily regimen for color treated and processed hair.
Pro's
-Doesnt weight the hair down
Con's
Verdict-It leaves your hair feeling squeaky clean yet soft, and it's light enough that it won't weigh down fine hair. Plus, the bracing mint scent is a pleasant wake-up call in the shower.
Hope you enjoyed my review on Malin + Gotez product , these truly are amazing and well made product that are worth every single dollar you us to pay for these products , you wont be sorry at all for purchasing any of these products at all , also Malin + Gotez DO NOT test on animals and all product are made in the USA !!
Please also stop by my social media's
Business Inquiry- Bregal89@yahoo.com