Today I am very excited to bring you a review on a new brand of products that I was able to try for the first time. As I have mentioned before, I have been using mineral makeup for a while now. I'm always looking for new brands to try and this one is a home run!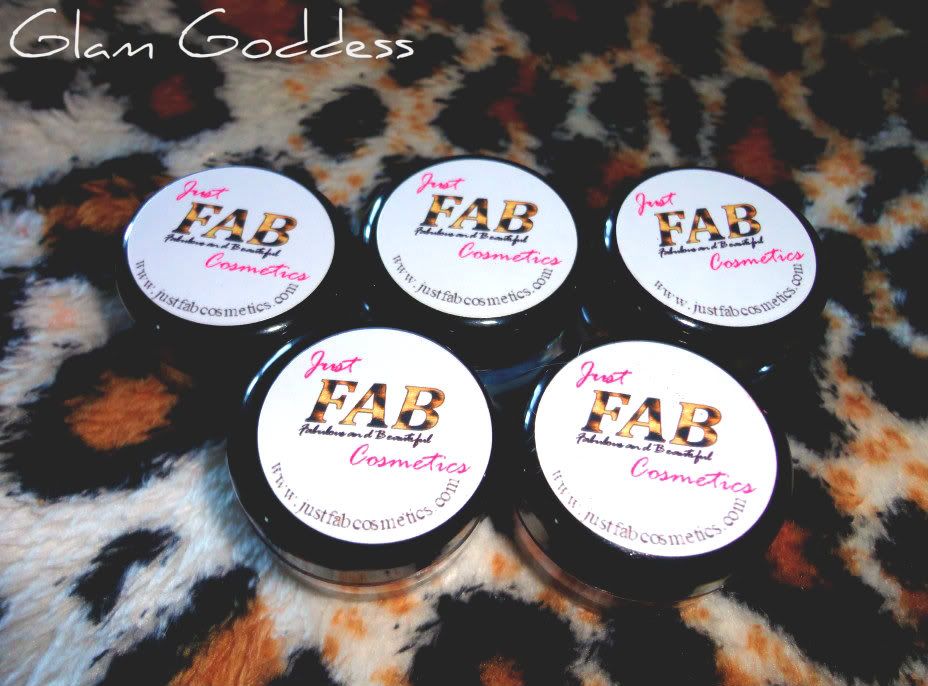 What Is It
Just FAB Cosmetics offers all natural mineral makeup. You will NOT find any Bismuth, Talc, Chemicals, Oils, Fragrances, Preservatives, Parabens, or Additive in my mineral makeup. Everything Just FAB offer is Eco-Friendly and Hypoallergenic.Everything is handmade by Just Fab. There are NO unnecessary and skin irritating fillers in this makeup. Titanium Dioxide, Zinc, and so on are considered fillers. Basically if it's not Mica or Iron Oxide it's a filler. Fillers are added to all mineral makeup, but not at Just Fab !!
The "Just FAB Cosmetics" product line currently offers foundation, eye shadow/liner, blush, bronzer, mineral veil, highlighter/illuminizer, concealer/color corrector, eye primer, setting spray, and more to come!
Colors I Received
Starry Night Eyeliner/Eyeshadow(Vegan) Charcoal/blue undertone w/sparkles

Cookie Monster(Pigment)Bright Blue W/small shimmer

Topaz(Pigment) Bronze Gold W/shimmer

Sweet Violet(Matte)Dusty Rose Pink/Beige

Zombie Love (Brown Bronze Base W/colored shimmer
No Primer
Pigment and Texture
All the color I have listed above & tried are amazing, each jar of products are fantastic they all have beyond amazing staying powder , these are one of the most pigmented mineral eye shadows I have tried , alot of mineral eye shadows can be chalky and dry with tons of fall out and not very pigmented but with JUST FAB product it the opposite, these in my opinion are better then many other drugstore shadows I have tried .
Staying Power
These mineral eyeshadows have great staying power with or without primer , although I think it is best to use a primer for the best pigmentation and best wearing power,but I do think if you have oil or combo eyelid you must use a primer , but if you have non oily eyelids I think the staying power is great without a primer .
Packaging and Price
The packaging is cute and pretty , like many and most pigments come in a sleek girl with a twist lid and the label , with the label are adorable, they scream girly & sleek makeup ( leopard print text)also all jar have a label on the bottom with the name of each product. The price is so budget friendly with I think alot of people enjoy , I dont think they have any pigments/eyeshadoes over $5.oo , most are $2.99 .. now that is a bang for your buck .
My Thoughts- I was so pleased to be able to try this makeup. I'm always looking for more ways to remove the chemicals from products I use and replace them with more natural versions.This is a beyond amazing cosmetic line , there product give so much to a look, there pigmented , budget friendly and vegan ! I will be ordering some more from JUST FAB , I cant wait to try more of there products out !
- I was sent this product for free to review and try out -
Please Check Out Just Fab Esty Shop & Connect With There Brand
Esty Shop-http://www.etsy.com/people/justfabcosmetics
Facebook: www.facebook.com/JustFabCosmetics
Twitter: twitter.com/#!/JustFABCosmetic
Pinterest: www.pinterest.com/jfabcosmetics
Please stop by me social media's
Business Inquiry- Bregal89@yahoo.com
Have Any Request For Me ? Please Leave Them Below !!
What Are Your Favorite Just Fab Cosmetic Products ?