Lorac Sweet Temptations for Holiday 2012 looks like a VERY lemming worthy collection. What's better than makeup? Makeup that looks like decadent chocolate bars and candy.
Yes, please! The new Lorac Eye Candy Full Face Collection was on my Must Have wish list and of course I picked up the Lorac Sweet Temptations Eyeshadow Collection that is exclusive to Sephora when I had that wonderful 20% off of EVERYTHING coupon in Nov for the Sephora VIB sale !!
The palette retails for $59 at Sephora, and it includes six palettes – four eye shadow palettes, one eyeliner palette, and one lip/cheek palette.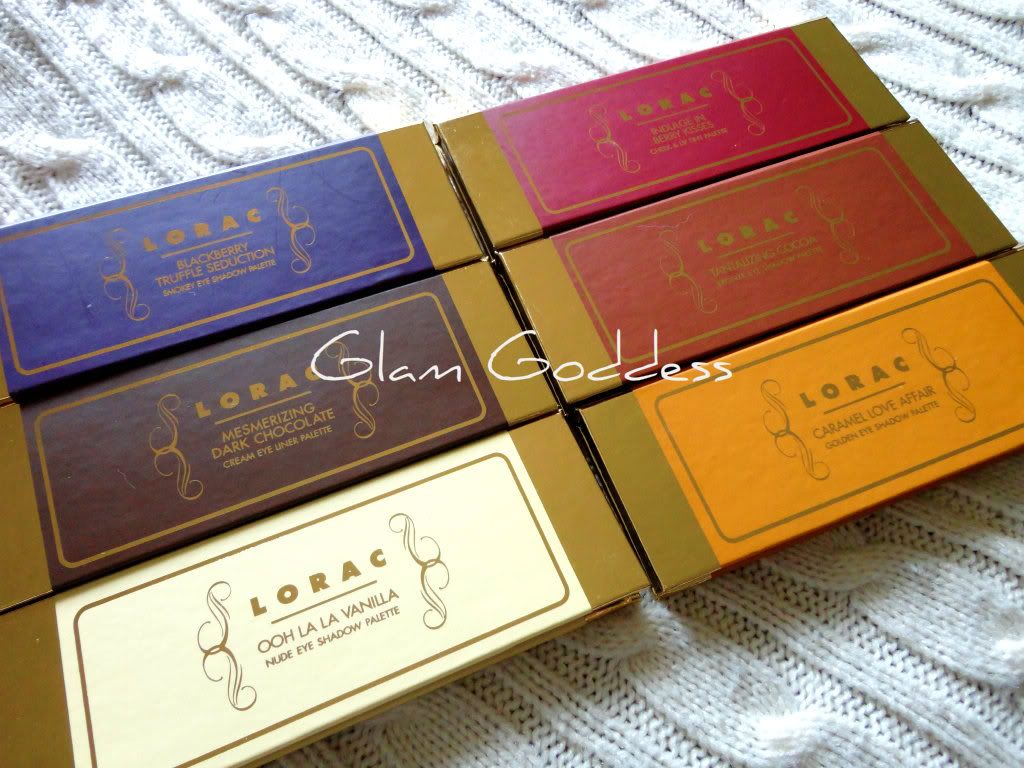 What it is:
An exclusive holiday collection of six palettes all infused with ultra rich color and velvety smooth textures for creating the perfect face.

What it does:
This season, satisfy your beauty cravings with LORAC's Eye Candy Full Face Collection. Even better than a box of chocolates, this deluxe assortment of sweet, tempting treats contains a luxurious selection of fresh colors for eyes, cheeks, and lips that you simply can't resist. Open the lavish gold box to reveal six faux "chocolate bar" palettes. The Eye Shadow Palettes, Cream Eye Liner Palette, and Cheek and Lip Tint Palette are all infused with ultra rich color and velvety smooth texture for a variety of eye-enticing looks.
(Most of the colors are Metallic, Satin , and a few Matte)
~Ooh La La Vanilla (Nude Eye Shadow Palette
No Primer
~ Cream Eye Liner Palette in Mesmerizing Dark Chocolate
No Primer
~Blackberry Truffle Seduction (Smoky Eye Shadow Palette)
No Primer
~ Caramel Love Affair (Golden Eye Shadow Palette)
No Primer
~Tantilizing Cocoa (Bronze Eye Shadow Palette)
No Primer
~Cheek & Lip Tint Palette in Indulge in Berry Kisses
No Primer
Pigment and Texture
They are the usual super buttery and soft, yet pigmented LORAC shades I've come to love. Some are on the frosty side, as many of my LORAC palette shades are. All four of the shadow palettes include four shades. The other 2 palette are a cream base/eyeliner palette & lip palette , the eyeliner palette is to die for so cream and pigmented I was actually blowing away by it,as far as the lip palette it goes , well it is the best lip palette but it isnt the worst either , the color are very nice and smooth but not the most pigmented so if your one of the people that like sheer color or something simple but not to bold then your will like it .

Staying Power
These shadows have great saying power, but primer is a must and they wont budge all day , as far as the eyeliner/base id you are planning on using them as a liner , dont forget to set it can it will transfer since it is a greasy texture, if your gonna use it as a base I still recommend a primer before apply it but lasted all day and didnt have any problem with it transferring or running

Packaging and Price
The packaging is unique and honestly, pretty darn adorable. The palettes come in a lovely box that resembles a box of Godiva chocolates. It's a heavy duty box, and the end of the bow has a magnet so you can clasp the box back together.
My Thoughts-
I found these shades to be creamy, soft and blendable. Colors are vibrant, the lip/check colors are wearable and pigmented and the eyeliner pallet shades are creamy and easy to work with. However, as much as I Love the packaging (reason I got it) the selection of colors from palette to palette is quite disappointing-More of a variety in colors would have been ideal. Nevertheless, all the colors are lovely and still will use these palette since it is so versatile and anyone can benefit from these palettes.
What is your favorite Lorac product? Have you tried these palettes before ?
Please also stop by me social media's
Business Inquiry- Bregal89@yahoo.com
Have Any Request For Me ? Please Leave Them Below !!