After much anticipation, I received myNatural VoxBox from Influenster on Tuesday! Influenster is a site I discovered almost a year ago, that sends out products in what they call VoxBoxes to members who are active on social media. Basically, they send you themed products free of charge in exchange for you promoting the brands via blogging, vlogging, tweeting, etc. Sounded like a great plan to me!
Here My Box
Here's What I Got I Was Pretty Excited To Get A Natural Box And I Was Please With All The Goodies I Got In It .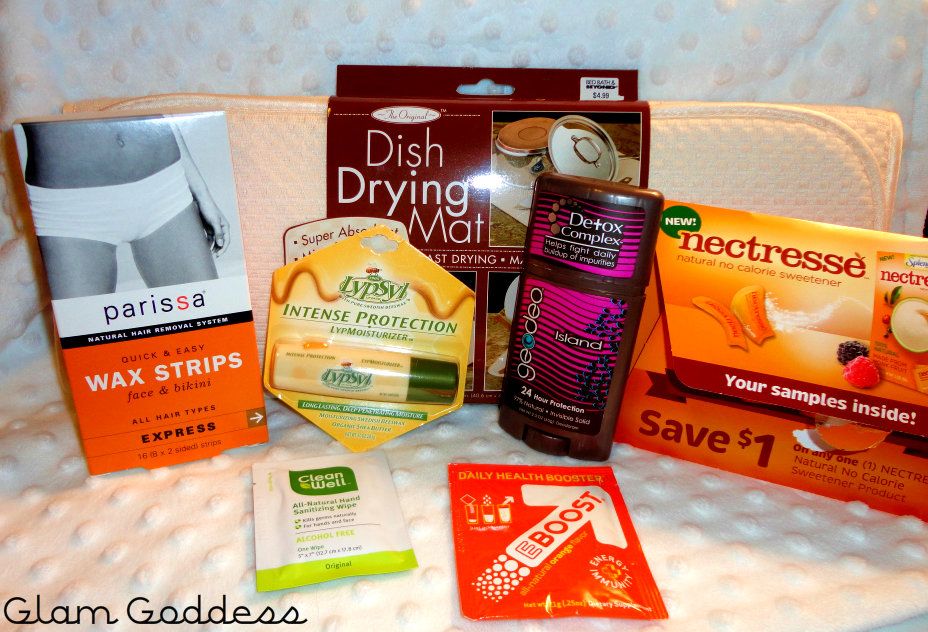 Coupon card" Free Moistic Lip Balm W/ purchase of one GeoDeo Deodorant at Drugstore.com

The Original Dish Drying Mat

Parissa Wax Stripes For Face And Bikini

Clean Well All Natural Hand Sanitizing Wipe

EBOOST Daily Health Booster

Lypsyl Intense Protection LypMoisturizer

GeoDeo Deodorant Stick

Nectresse Natural No Calorie Sweetener
Now let jump right into the review of this products:)
The Original Dish Drying Mat
What They Say About It
Holds 4 Times it weight In Water

Cushions Delicate Dishes And Stemware

Machine Washable

Fold & Stores Easily
My Thoughts-
I love this mat. Soaks up the water and keeps the dishes from breaking no slipping ever . Then I found the LARGE one - Super Great!!! Dirty? just throw it in the washing machine.so easy a simple to use these instead of the old dish towel laying around always and it super inexpensive.
Parissa Wax Stripes For Face And Bikini
A Natura

l

, mess free. express hair remover that's ready to use ,

Parissa Wax Face & Bikini stripes zip away unwanted hair on your upper lip , jaw, cheeks,and bikini line instantly , keeping you skin smooth for up to 6 weeks.
My Thoughts-
These are the best wax strips I have ever used. I usually switch and try all sort of products, but I love this one and I don't plan on switching. My hair is thick and coarse, and these strips work great! It's easy to clean off the excess with the oil that is included in the box. Great for when you don't have time and need to get rid of those annoying hair!Be sure to follow the directions and the product will perform really well, there barely any redness and the minimal pain .
Retail Price-$ 9.00 For A Box
Clean Well All Natural Hand Sanitizing Wipe
. Clean Well wipes clean up messes and kills germs with all natural ingred

ients that are easy on the earth. Their mild ingredients are great for hands and face , and the one use packet is ideal for all your on the go activities!
My Thoughts- I love these a lot, I love that these are alcohol free and don't have a crazy strong scent , these are great everyday wipes , they are also safe for kids, moisturizing formula ,has a nice citrus scent and the best is they are not tested on animals .
Retail Price $29.99 For 50 Pouches
EBOOST Daily Health Booster
EBOOST will boost you mood, focus, and immunity with natural ingredients and no crash ,A sa shot or an easy to mix powder and in four flavors, you'll feel great whether you choose orange, pink lemonade, acai pomegranate or super berry .
My Thoughts-
Love this , used this before and it amazing :)
Not only does this healthy energy drink help you recovery from workouts, it also delivers excellent health benefits and also tastes great with no harsh crash. It doesn't get any better than this.
Retail Price-$28 For 20 Powder Packets
Lypsyl Intense Protection LypMoisturizer
With pure Swedish beewax, organic shea butter . and vitamins A & E , Lypsyl Intense Protection LypMoisturizer will give your lips long lasting, deep penetrating moisture and lip care protection to moisturize, soften , and protect your lips naturally for a healthy pucker.
My Thoughts- I do really like this stuff and have been putting it on like crazy because of the winter months. It's not waxy and it's not oily, but do wish it was a little more balmy because I like to have a thick layer on my lips especially in the winter. I love that it has SPF and the flavor isn't bad. It can get annoying afterwhile but I much prefer it to something that smells minty . The tube is a little bulky, but easier for me to find in my jacket or purse. Overall, I really do like this lipbalm and sad that I can only get it at certain stores. I am hooked.
Reach a new level of purity, keeping you fresh for 24 hours odor protection . GEODEO Natural Deodorant Plus Detox Complex is a naturally derived, breakthrough eco technology, specially formulated to be safe for your body and your world
My Thoughts- Smells like alcohol, pretty strongly. feels sticky, and didn't really seem to do anything - except feel like a thin layer of gel which made my armpits subtly stick to themselves as I moved after 3 or 4 days of this I switched back to my deodorant stone (which kind of works..i think. lol. it comes off after a bit and doesn't hide or prevent sweating/ smell, but it doesn't feel weird like the geodeo, which also seemed to cause sweating and b.o.)
Nectresse Natural No Calorie Sweetener
What They Say About It
Nectresse sweetener taste like sugar but with zero calories per serving !! 100% all natural , Nectresse is made primarily from monk fruit , combined with other natural sweeteners.
My Thoughts-
The granules were similar to sugar and tasted perfectly sweet. It wasn't anything weird tasting, it was really good. They dissolved well so there wasn't any gritty mouth feel. Nectresse will definitely be my go-to sweetener.
All in all, I'm pretty pleased with my first Influenster VoxBox experience. I think it's a great idea from a marketing perspective -
Please Sign up for Infulenster , It complete free
Please also stop by me social media's
Business Inquiry- Bregal89@yahoo.com