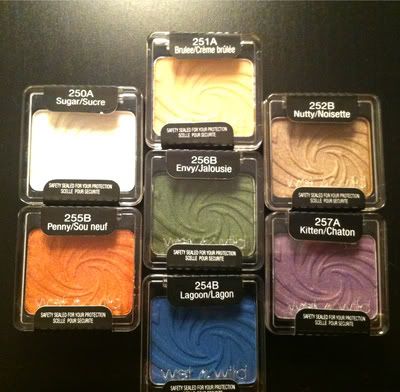 Have you looked at Wet n' Wild products lately? I walked by the display the other day and thought "Wow! I don't own any of the Color Icon singles , and thought since there buy one get on 50 % off id pick them all up , so I decide to get all 7 colors, and when I brought them up to check out , they all rang up .55 cent.. SCORE. Im not sure if these are being discontinued or not , Ive heard yes they are and no the aren't ?!?!
-Wet N Wild Color Icon pressed powder eyeshadow singles are definitely one of their products worthy of that attention! The texture is impressively smooth, and the pigmentation is some of the best you'll find at the drugstore—let alone for $1.99!The tradeoff for this bargain price is that the packaging is cheap and somewhat temperamental, but the product inside is nonetheless outstanding. Though these do blend and wear well, they will need some touching up if you plan on wearing them from day to night, able in 7 different color and finishes.
-250A -Sugar -Satin bright shimmery white(Matte)
-251A- Brulee-Nude brown/flesh color with no shimmer( Matte)
-252B-Nutty-Medium shimmery taupe
-254B -Lagoon-Medium shimmery blue
-255B- Penny-Copper penny shimmer with gold
-256B -Envy-Forest green shimmer
-277A-Kitten-Sheer greyish lavender with gold shimmery purple, this shade is a very hard powder shade and take a lot of pressure to get the purple color pay off.
Pros:
Most have great pigmentation
Inexpensive
Soft texture
Small, portable packaging
Minimal creasing after hours of wear.
Some colors are more sheer
A relatively small range of colors and finishes
Thoughts- These are totally worth my . 55 cent each for these 7 shades, they are all very pigmented, and inexpensive, for great quality products , just like you would want from a high end single shadow bought from a high end make up store, they come in a compact little single packaging case that keep the shadows air tight , so it easy to travel and carry with you anywhere you go and the best thing is , that most of the color can be worn by itself for that perfect pop of color.
Dupes -
Mac Brule Single Sahdow - Dupe- Wet n Wild Brulee
Sleek Acid Light Blue Dupe-Wet n Wild Lagoon
Mac Mink & Sable (Starflash) Dupes-Wet n Wild Envy
Mac Beautiful Iris Dupes-Wet n Wild Kitten
Mac Satin Taupe Dupes- Wet n Wild Nutty
Mac Expensive Pink Dupe- Wet n Wild Penny
What Do You Think of The Wet N Wild Color Icon Singles?