First off I'm gonna explain my skin, my skin is oily combo skin depending on seasons, I dont really have acne , so I don't really use product for acne but I do use a lot of product to prevent breakout and have SPF, these are products I use on a daily routine or during the week, and most product I used are high end since I do have very very sensitive skin.
Cleansing-
Origins Frothy Face Wash, $18.50-
I have tried every product under the sun, but nothing has worked as well as this cleanser. It feels great on your skin and rinses off completely. You feel like your face is squeaky clean without the dryness. Most cleansers I've used have left my face dry and have not prevented breakouts, but since using this I've had a massive improvement in skin clarity.
Exfoliate- Fresh Sugar Face Polish $55.00-leaves the complexion extremely bright and radiant in just one use. The innovative formula is enriched with revitalizing brown sugar and antioxidant-rich wild strawberries, which work together to gently dissolve dead skin cells and reveal perfectly nourished skin.
Moisturizer- Clinique Dramatically Different Moisturizing Gel $24.00-The classic yellow lotion now comes in an oil-free gel formulation. It absorbs directly into skin and leaves combination complexions moist in dry spots but not slick in oily areas.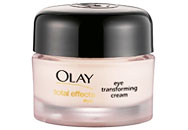 Under Eye Cream- Olay Total Effects Eye Transforming Cream $22.00Treat dark circle, crows feet, fine lines and dark circles, with a gentle anti aging cream that tranforms the look of skin and eye area.
Night Cream- Olay Definity Restorative Night Cream $
24.00-This satiny whip gets down to business while you sleep, infusing collagen-plumping, skin-brightening glucosamine "deep below the surface, this is my favorite night cream ever.
Mask-

Origins Out Of Trouble 10 Minute Mask To Rescue Problem Skin $32.00-

When skin is too slick or when more pressing problems start to pop up, it's Origins to the rescue. Formulated with natural troubleshooters, including super-absorbent zinc oxide and sulfur plus calming camphor, this mask rapidly responds to problem skin with a three-part plan: sop up oily-shine, slough off sticky, dead cells, and sweep away anything.
Makeup Remover- Philosophy Just Release Me Dual-Phase Oil-Free Makeup Remover $18.00-This product is gently yet effectively breaks down and removes the toughest eye makeup, without irritating the eyes.Formulated with natural aloe, chamomile, and cucumber extract, this soothing essential works to calm, clean and refresh the eye area.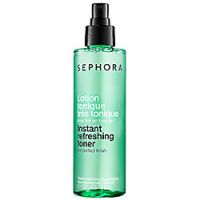 Toner-Sephora

Instant Refreshing Toner $12.00-

This toner adds the perfect final touch to makeup removal, working instantly to leave skin incredibly refreshed, toned, and prepared for the application of moisturizer
Face Wipes- Soap & Glory Off Your Face Wipe Cleansing Clothes $10.00- These three-in-one clothes come in a portable, resealable patch perfect for quick getting rid of make up, dirt, oils, and dead skin cells build up. Formulated with a mix of skin softening glycerin, a quick cleasing agent .I Normally use this every morning just to clean and freshen up my face in the morning.

Acne Spot Treatment- Murad Acne Spot Treatment $18.00-This product provides on the spot control the moment you feel a blemish developing. A powerful acne-fighting formula, it treat breakouts while healing with anti-inflammatory ingredients that sooth and reduce redness.


Tips For Healthy Clear Skin-
Wash your face at least twice each day
Keep you hair and hands off your face
Don't avoid the sun altogether
Make sure that you get plenty of rest
Don't squeeze pimples, or pick at any sores
Never sleep with makeup on, away wash it off


What Are Your Skin Product You Use Daily?