Halloween Store Goodies- Since Halloween is over now, this is he perfect time to go and get what leftover at 50% off or more at your Halloween store near you, so I just wanted to go for the makeup and nail polish , and score I found great thing, I got 3 nail polishes for 0.42 cents...normally $2.99booyah, the bottles are shaped like coffin, hehe, and can be hard to apply the polish , but the black plastic part does come off.. The name of the nail polish is called Fright Night Claw Polish, it came in 5 colors i think , im not sure , but I got 3 out of the 5 since one of the color was black and I already have a basic black polish, honestly these polish are pretty good , anyways first color is
Phantom-A medium gray with blue and sliver shimmer, the formula is sheer for this color , but after 2 coat or 3 depending on how gray you want it , it look great it , it is consider a Halloween color but can be wore all year .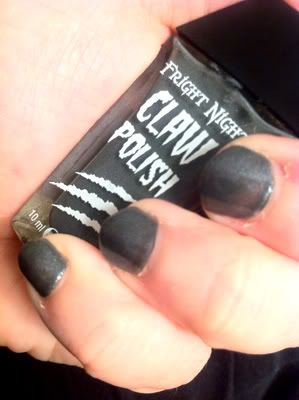 Toxic- A metallic green with green shimmer almost a teal color, depending on the sunlight, for me this color is very very sheer and I would apply 3 coat for the deep metallic color.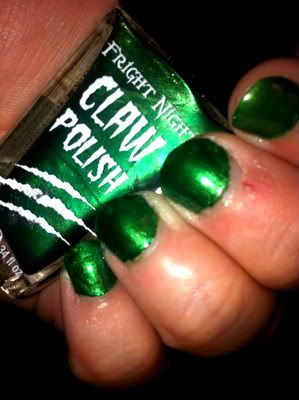 Bloodshed-A deep creme red., this one is a 1coater so be careful,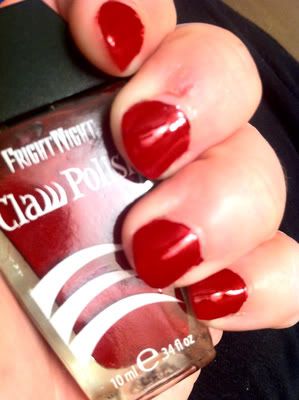 Next I found 2 Wet n Wild Fantasy Maker Nail color for 0.50 cent. I adore almost everything Wet n Wild make and I need it all , so I came across a Fantasy Maker polish that was 2 yr old at the Halloween store, so I needed to have it and then I pick on up from this years Fantasy Maker collection, there are 5 colors this Halloween season , they all are amazing colors and polishes, the color pay off is amazing and so is the formula and we cant forget about the packaging so if you can I highly recommend to pick some Wet N Wild polish up.** These Polishes Are Limited Edition**
Purple Potion- A purple/ black base with purple glitter, for best coverage apply 2 coat .
Black Mag -. A clear base with multi-color small bar glitter. Green, gold, red, blue, orange
and purple, you can wear this color polish over any polish you like or by itself, my opinion I would use 2 or 3 coats for the glitter to appear if you just use it as a base color.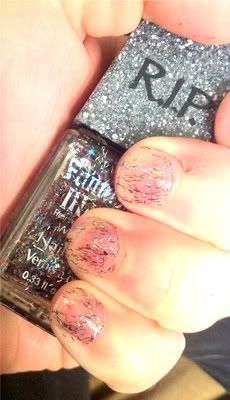 Finally, I've been dying to find Elf nail polish and most people have told me that you cant find it in stores , and since Ive heard so many great things about the line of polish I was really wanting to try it , well finally I found a Elf Holiday trio :) .This polishes are really amazing, the color are all pretty and the brush are so nice and give a great application of polish on each nail. I got this trio for $2.99 .
Cranberry- A shimmer deep red, Apply 3 coats for the perfect red
Golden Goddness-A gold hexagon top coat, can wear just as a sparkly top coat, but I like wearing it with a black polish , apply 2 coat for best looking holiday nails.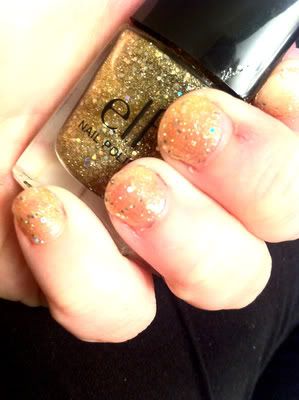 Twinkle-Clear multi-tonal glitter with small blue glitter ,this isn't the best polish to show it off on its own as it very sheer and look best on a dark polish , must apply 2 or 3 coats for even looking polish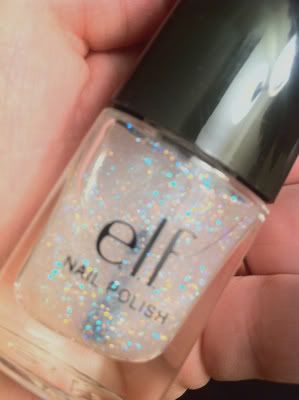 ENJOY!!!
What Is Your Favorite Color This Holiday Season ? Im Alway looking For New Nail Polish To Try.