Ive been one a hunt for stippling brush for so long, I finally found some I love, some are high end, but most of them are drugstore. When looking for a great stippling brush , I look for the quality, is it gonna shed, is it dense enough to use it for liquid makeup.
Coastal Scent Destiny Duo Fiber Stippling Brush-

Our Destiny Duo Fiber Stippling Brush is the trade secret for creating flawless, airbrushed results with any type of makeup. The two levels of bristles allow you to layer product beautifully and determine how light or full you prefer your coverage. Use this brush to apply foundation, blush, or bronzer wet or dry for a flawless finish.
My Thought- Works great for blending any light weight makeup, whether it liquid or powder formula, this brush is also prefect for blending around you hair line, jaw and nose, since the brush is so lightweight, it blend your makeup in so good, it will feel like your not wearing anything, while it making your skin look smooth and flawless,. Best thing about it is, for $6.95 your getting a high quality brush .
Available at Coas

talscents.com
Real Techniques Stippling Brush-

The final step is a perfect finish. This dual-fiber brush is the trade secret for creating airbrushed, high-definition results with all types of makeup
My Thoughts- This brush was designed so well, it easy to use, compact, soft bristles. This brush has been amazing! I use it in the morning to apply my foundation and it works great. It has not shed at all and is really easy to work with. I would definitely recommend this brush to everyone!
Available

At

Ulta

Or Anywhere Real Techniques Products Are Sold($9.99)
BH Cosmetics Round Stippling Brush- If you're looking for a flawless finish use our Round Stippling Brush with any liquid foundation to achieve that airbrushed look. This brush is made with synthetic hair in order or get the best application possible without absorbing too much product.
My thoughts- One of my fav, No shedding,sturdy, luxuriously soft, what I like about this one is the how dense and full this brush is, even if you wash this brush over and over, it will still come out in the same shape and still work like new.
Available at BHcosmetics.com( $6.95)
Sonia Kashuk Synthetic Flat Blusher Brush-Apply blush easily and evenly with this synthetic flat blusher brush from Sonia Kashuk. The contoured body of this brush is easy to grip and comfortable to hold. Perfect for mineral, liquid, and powder foundations.
My Thoughts-I love this brush! I'm so glad I got it after seeing and feeling the sample at a Target store. It is so soft and applies powder foundation flawlessly, which I use it for. I'm sure using it to apply blush is just as good. It definitely is a great brush for the price, and much better than my other more expensive brushes. I will definitely consider purchasing more Kashuk brushes. You will not be disappointed with this one.
Available at Target or Target.com($14.99)
Elf Studio Stippling Brush - This new antibacterial, synthetic haired Taklon brush is softer and more absorbent and can be used with wet or dry products. Be a professional makeup artist and create a flawless look with this e.l.f. Studio brush!

The layered bristles create a soft airbrushed look that's perfect for applying foundation or adding color definition to cheekbones or highlighting with soft layers. Use this brush with any liquid or powder face product such as foundation, blush or bronzer to build your coverage from sheer to heavy.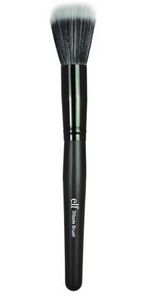 My Thoughts-I like this brush, I dnt love it , i only would use this brush for powder or mineral makeup since it isnt dense,and is kinda flimsy, over all the brush is very soft ,easy to use and long lasting , for $3.00 I think it a good deal.
Available at Target or Eyelipface.com
What Is Your Favorite Stippling Brushes?