Who doesnt wanna save a few dollars these days, I know I sure do . Almost every high end product out there whether it a makeup item , skincare, haircare item there is a cheaper alternative that work the same as high end product for a fraction of the price.
Face


Kat Von D Tattoo Concealer Vs Hard Candy Glamoflauge-
*Kat Von D Tattoo Concealer
What it is:A heavy duty, highly pigmented, transfer- and water-resistant, multitasking concealer.

What it does:Kat Von D Tattoo Concealer is a creamy, blendable secret weapon that provides the ultimate, customizable coverage, in four simple steps: prep, conceal, perfect, and set (see details for each step below). The four-step process hides tattoos, dark circles, and blemishes alike!

What else you need to know:This oil- and paraben-free, long-wearing formula is perfect for any occasion that calls for a flawless look. Kat says, "If you wanna hide a tattoo just for one day, the proper concealer can make that happen! No one has to see what you don't want them to see!" Take it from t
he tattoo pro: "I think just as much as people have the choice to be tattooed, they should also have the liberty to look whatever way they want whenever they want." This is your ticket to tattoo freedom!
Price- $25 ( Come in 7 different colors)
**Hard Candy Glamoflauge Heavy Duty Concealer
What Is It:A heavy duty, highly pigmented, multi-use concealer that delivers ultimate coverage.
What It Does:The formula blends seamlessly into skin with plenty of play time creating a flawless and natural look perfect for any occasion. You can hide everything from dark circles and blemishes to tattoos!
Price$ 7.00( Comes in 3 different colors)
Savings Difference-$18 dollar difference
My Thoughts- Ive tried both these concealers, I enjo
y both of them the same, for me the Hard Candy concealer is a total dupe for the Kat Von D Concealer, both these product are a very thick concealer and a little pea size amount goes a long way. I use this product daily and would highly suggest the Hard Candy one .


MAC Pro Longwear SPF 10 Foundation
What is It :
A long-wear foundation that gives up to 15 hours of wear in any environmental condition. Lightweight and creamy, applies smoothly to provide sheer to medium coverage. Even in hot and humid conditions, controls oil to keep skin fresh, natural and flawless. Provides everyday SPF protection.
What It Does: This foundation control oil to help keep skin fresh,has SPF to protect your skin from the sun, also give your skin a flawless lightweight coverage.
Price$ 29.50( Comes in 16 Different Colors)
ALTERNATIVE
Revlon Colorstay Foundation
What Is It:
ColorStay Makeup with SoftFlex provides lightweight comfort, so you feel like you're not wearing makeup. Looks fresh for up to 16 hours.
What It Does:
Specially formulated for combination or oily skin, this oil-free formula helps control shine all day and gives you flawless looking skin.Makeup looks fresh and feels great for up to 16 hours thanks to the lightweight, comfortable feel from the SoftFlex ColorStay formula.Medium to full coverage, with SPF 6 protection*.
Price$12.00 ( 20 Different Colors)
Savings Difference-$17.50 Difference
My Thoughts-I do like Mac makeup a lot and I do adore the foundation, it does do a great job of making your skin look flawless and fresh, but then again I think Mac is a little over rated and over price, But there always a product out there that does just the same and for me it Revlon color stay foundation , I love this stuff it pretty much does the same as thee mac foundation , the only difference is Revlon offers more colors to pick from , on the other hand a lot of people dont like the smell of the Revlon foundation , it does seem strong and it smell like paint, but don't let that stop you from buying it , cause it is true worth it.
Benefit Box Blush/Bronzers
What Is It:
Benefit Cosmetics' famous "box-o-powders" come in a variety of hues for instant beauty gratification. Choose the one that's right for you... trust us, you'll want more than one!
What It Does:
Looking for a goddess-like glow? Wanna be sun-kissed and sexy? Need a perk-me-up? Whatever your wish for radiance, you'll find it in this collection that guarantees a sweep of powder a day keeps the "wow you're gorgeous!" compliments coming your way. Mix, match, sweep on sexy, and see for yourself what all the fuss is about.
Pricing-$ 28.00 Per Box( 7 Different Shade)

ALTERNATIVE
Hard Candy Fox In a Box Bronzing Duo's & Blush Quads
What Is It:A bronzer/blusher duo housed in a tiny box with a beauty price tag!
What It Does: A highly pigmented multi-color powder compact that will surely bring out your inner foxy lady.
Pricing-7.00( 5 Different Shades)
Savings Difference-$21.00 Difference
My Thoughts- I love both Benefit & Hard Candy Boxed powder pretty much the same, I do think Benefit color choice is better both I think they both have there unique differences & colors . If you are look for a budge friendly box powder I would suggest the Hard Candy ones, the

the pigmentation is quite nice, goes on smooth and give you sunkissed skin, just like the Benefit powder & plus they have super cute packaging.
Urban Decay All Nighter Long Lasting Setting Spray
What Is It:A technologically advanced and hypoallergenic makeup setting spray that's suited for all skin types and keeps your makeup in place for up to 16 hours.

What it does:In an exclusive partnership with SKINDINÄVIA, Urban Decay developed All Nighter Long-Lasting Makeup Setting Spray for customers who need their makeup to last. As the final step to your makeup routine, this weightless, super-fine mist is formulated with Urban Decay's patent-pending Temperature Control Technology, which lowers the temperature of your makeup to hold foundation, eye shadow, blush, and concealer in place. Makeup looks picture-perfect all day long through wind, heat, and cold. All Nighter works expertly on all skin types and prevents loss of color, melting, sliding, caking, cracking, excess shininess, fading blush, eye shadow, and lip color disappearance. It's also formulated to resist moisture, so you can fearlessly sweat & crying.
Pricing-$29.00 For 4 Oz
ALTERNATIVE
What Is It:

The lightweight, comfortable and alcohol free formula improves makeup wearability and prevents color from running or fading.
What It Does: Keep your makeup in place all day with a radiance boosting invisible hold. The invigorating mist moisturizes and soothes the skin with key ingredients Aloe, Green Tea, Cucumber and Vitamins A, C & E.
Pricing $3.00 For 3 Oz
Saving Difference $ 26.00 Difference
My Thoughts-I do indeed love Urban Decay so I thought for the price this setting spray would be great , but I was a little disappointed in it, I do think it is a good spray and it does set your makeup, but on my skin it made my skin look like a dewy oil slick kinda, not pretty at all, so I was looking into other setting sprays, and I have been hearing great stuff about ELF , and Elf is a great brand of makeup , so for 3 dollars I figured if it didn't work well , I would be out of any big amount of money and turns out to be one of my holy grain setting sprays. I would recommend this product for anyone looking for a buget friendly spray , to me this works better then any high end setting spray, it leave my setting pretty matte, glowing skin, smooth and flawless.
Ole Henriksen Purifying Eye Makeup Remover
What It Is:A High Qulaity Purifying Makeup Remover Pad
What It Does:
Removing eye makeup has never been so easy and more comfortable. Each pad is 100% oil-free and saturated with a soothing blend of extracts and vitamins. Even the most stubborn makeup glides off easily, leaving the eye feeling clean and extremely soft without a greasy residue. Safe for contact wearers.
Pricing $ 25.00 For 75 Pads
ALTERNATIVE
Beyond Belief Facial Cleansing & Makeup Remover Towelettes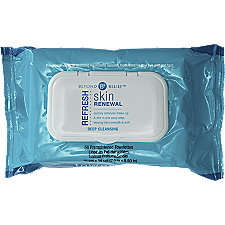 What Is It :Beyond Belief Facial Cleansing and Makeup Remover Towelettes are pre-moistened facial deep cleansing washcloths specially formulated for eyes and face. These luxuriously soft sheets are pre-moistened with a super-effective facial cleanser for flawless skin care.
What It Does: Deep clean your face, unclog pore and removes makeup all with one cloth, leaving your skin smooth and soft.
Pricing-$ 5.29 For 56 Pre Moist Wipes
Saving Difference-$ 19.71 Difference
My Thoughts-This is a tough throw down on these too items, I love the Ole Henriksen makeup pad , cause they feel like the scrubbing your face while it take makeup off , these pad are not harsh at all and there so easy to use , the only thing I dint like is they leave a milk feel on your skin , so I would rinse after using,but on the other hand the Beyond Belief ones are almost the same , they do the same thing, i love these cause the pre- moistened and can be super convenient to carry with you in your purse or traveling and they are so much cheaper .
What Is Your Favorite Cheap Alternative For High End Items?