Im so happy I found the new Hard Candy line, since it not suppose to be out til Sept.Click Here for the whole hard candy blog post and info on it, anyways let begin.
World Balmination ($3.00)
- I got 2 of these, I got one in Fishnet , a hot pink glossy tinted lip balm/chapstick & Starfish , a peachy glossy tinted lip balm. My thought, overall I like them for three dollar, they are very glossy and not sticky , the one thing I dont like about them is the color dont show for that tinted look , but you can layer these with lipstick which works well.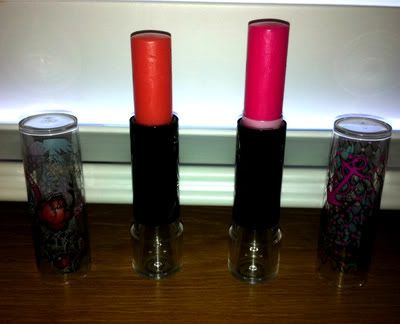 L-R( Fishnet, Starfish)
Lashaholic Super Volume Mascara
($7.00)-I'm not a very big fan of the Hard Candy mascara, but since it new I had to try it since I've tried the other one.I do like the brush on this mascara, it is a rubber brush and it does separate your lashes nicely,it didn't clump or anything , but the formula can seem wet and the brush does have alot of product on it, my thoughts, overall it OK, like most of there mascaras, for me it didn't give me over the top lashes like it claims to do, but it maybe work for others with short lashes, also think this would be a great mascara to use as a base and they layer with a thickening mascara.
Stroke of Gorgeous ($5.00) Im a sucker for felt tip color liners, i love how smooth felt tip liners goes on your eye lids, and I love the fact they come in so many different color. I got the new felt tip liner in Nautical, a really pretty teal color, the color pay off is very pigmented and the felt tip applicater is nice and strong, it does come in two other colors purple and black., My thoughts, overall I really like them for a nice pop of color, it didnt smear or anything with is a plus , im pretty happy with this liner and would by the other two colors as well.