I can't believe how quickly this month has gone by. We are approaching the holiday season and I am so excited; I mean...isn't it the best time of the year?!?! Any who, here are the beauty products I have been using and loving all month long with their description and information
Onyx Professional 100 % Acetone Nail Polish Remover- This is by far my holy grail and polish remover, and yes I have tried many but nothing work as good as this product does, I recent was try the sponge nail polish remover , and Oh My , worst thing i ever thought about trying , anyways back to the point , this nail polish remover removes everything in 1 swipe with a cotton round, it like a miracle in a bottle.
Onyx Professionals 3-2-1 Quick Nail Dryer- I really didnt think much of the product ever when I saw it in the store ever, I always looked pasted it ,but I thought you know what Im gonna give it a shocked , and it WOW'ed me . This is an awesome nail spray if you need to put a quick cot of polish and run out the door , it that easy with this spray, the only thing I have to say bad about this product is the scent , it has a very strong baby powder floral scent .
Nutra Nail Strengthener- I have very crazy nails , seem like I have one day that doesnt wanna be like the others, my one finger seem to have a weak nails , and always seem to break :( but since ive started using a a nail strengthener all was been well with my nails , they have been extra strength and growing like crazy , this is a great product if you suffer from weak nails that need a little TLC .
Hard Candy Just Nails In Matte-ly In Love- This is like love in a bottle , I paint my nails on average every other day , and so getting sick of having shining nails, so I wanted to try matte nails , could find any matte top coat in any store I went to until I googgled it and found this one , I love it , it give you matte nails in a minute , best thing is , it not a think , tacky topcoat , it went on so smooth and amazing .
Nivea Extended Moisture Daily Lotion- I hate dry skin , I have is year round , it not funny , it itches and just yucky to look at and feel , I was looking for a good loition that would lock is all the moisture and give be great smooth skin , this is the magic product , this is amazing lotion , it hydrate your skin ASAP , and you will feel relief right away , it is greasy or anything , but by fair so goo for dry skin .
Prada Candy Perfume- I could write a box about this scent and I could smell it all day it so amazing , this is a beautiful smelling scent , it sweet but it does have a soft musky scent perfect for fall/winter, and he scent will last all day on you , alittle goes a long way , so be sure not to spray much .
Wet N Wild 8 Pan Coloricon Palettes-One word to explaning this palettes is AMAZING , these palettes are one of the most inexpentsive palattes and they work like a charm , these are so velvety, smooth ,pigmented , anything you are looking for in an eyeshadow these have it . FOR A FULL REVIEW CLICK THE LINK BELOW OPEN HERE
Revlon Colorstay Mineral Lipglaze- I really love any Revlon lip product, so when I found these I was beyond excited , these are a beautiful lip gloss and the color pigmentation is amazing , these are not sticky are all and they last forever !!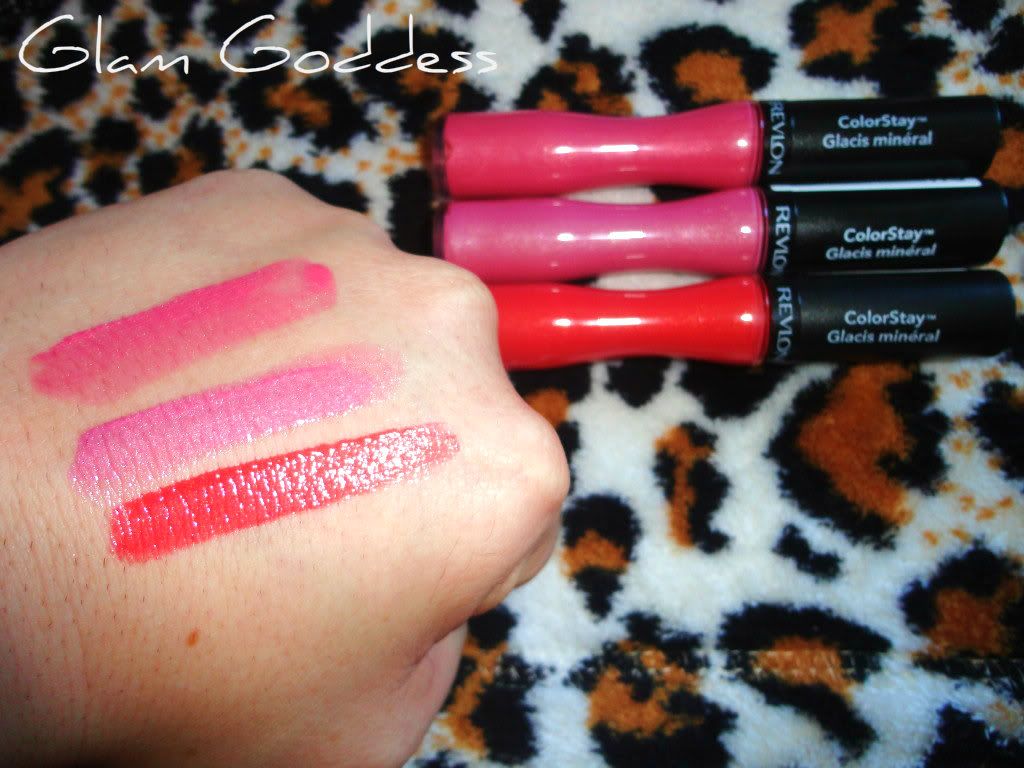 Revlon Lip Butters-Like I said above, I love Revlon lippies and these have won my heart , they are so creamy and give you the most beauty flawless finish , they are so light but creamy and moisturizing at the same time .
Wet N Wild Brow Kit - I never used to like find in brows ever, I always thought it look bad , over done, fake everything , but then again I guess it all depends on the color and how you apply it , so since Ive been using this like a crazy mad woman and it has made a huge different in my brows, they so so much fuller and more put together then ever.
Olay Wet Cleansing Clothes- Best Cleansing clothes ive ever tried, this is so refreshing and so smoothing and just smells so great and cleans so well and takes every ounces of dirt of your face.
Hard Candy Blush Crush Baked Blush(Bombshell 128)-If you havent tried these out , your missing out these are awesome , they are so pigmented, i used mine for a bronzer/glowy blush since I have very pale skin , I love the color pay off this gives on the cheek and the staying power is awesome .
Starlook Iprimer-This is a primer I got from a monthly beauty box , and this primer is my only primer I will use, it is a creamy clear base primer, has a sticky kinda like a vasaline base so it goes on clear and hold all your eyeshadows in place , they wont budge at all they will last from day to night.
Sephora Face Contouring Brush-This brush is my life , it is the prefect brush for contouring , it so soft and dense and give u a flawless finish , I pickt his brush up just because it was on sale at Sephora for 7 dollars normally 30 dollars, didnt think it would be anything great , but now that ive used it so much I dont no what other brush Id use if I lost this brush .
Hope You Enjoyed My Monthly Favorites !What Are Your Monthly Favorites Id Love To Here?
Please also stop by my social media's
Business Inquiry- Bregal89@yahoo.com