Too Faced Natural At Night Sexy & Sultry Neutral Eye Shadow Collection $36
What It Is:
Introducing a sultry, nighttime version of our best-selling Natural Eye Collection! Intensify your evening makeup with this array of seductive, warm shadows that will take your look from sundown to night-on-the-town. These nine tempting shadows in a variety of highly-blendable matte, shimmer, and glitter textures add instant after-hours glamour to any natural look. (A $76 value for $36)
More To Love:
Naturally Sexy: A collection of nine, complimentary shadows are the perfect palette of sexy, late-night neutrals.
Tempting Textures: Pigment-rich, high-performing shadows offer a sophisticated range of tectures from velvety mattes to silky shimmers.
How-to Cards: Three, easy-to-follow, how-to cards show you how to create Night, Fashion, and Classic looks.
Shades
Night Fever
After Hours
Cocoa Star
Eclipse
Moonstone
Nightcap
Spotlight
Nightlight
Full Moon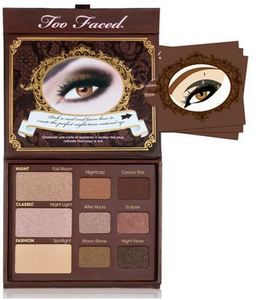 Too Faced Natural Face Natural Radiance Face Palette $39
What It Is:
Our multi-tasking face palette contains everything you need to create a warm, all-over glow. A thoughtfully selected assortment of natural, sun-kissed shaded delivers a healthy, no-makeup look that is irresistibly sexy.
More To Love:
Six Face Essentials:Includes a universal luminizer, brightener and concealer in neutral shades, cream and powder cheek options along with a golden-bronze veil for an overall glow.
Flexible Usage: Our versatile face collection can be used with your favorite complexion products, applied alone to naturally conceal and highlight or for quick touch-ups.
How To Tutorials: Our three, how-to lesson cards demonstrate application techniques and color placement.
Includes:
Universal Luminizer
Brightener
Concealer
Cream and Powder Cheek
Golden-Bronze Veil
Too Faced Tinted Beauty Balm Multi-Benefit Skin Care Makeup $32
What It Is:
Our innovative beauty balm offers multiple skincare and makeup benefits in one simple step. Our powerful, multi-mineral complex instantly achieves a healthy glow and improves skin's overall appearance.
1. Light-diffusing pigments tint and add radiance (available in 4 shades)
2.Anti-aging, multi-mineral complex primes & prevents damage.
3. Moisturizes with oil-free hydration.
4. Hypo-allergenic and soothing for all skin types.
5. Broad-spectrum, chemical-free SPF 20
More To Love:
Anti-aging, Multi-mineral Complex: Magnesium, Potassium, Zinc as well as Ginseng, Ginko Biloba.
Soothes & Nourishes: Vitamins A & E, as well as Chamomile soothe and nourishes while our oil-free hydrating formula moisturizes.
Blends easily: Four gorgeous shades, with luminosity and effortless blendability to suit individual skin tones and shades needs.
Sun Protection: Broad-spectrum, chemical-free SPF 20 offers optimum protection from the sun's harmful UVA/UVB rays.
Muli-use: Can be used as a primer to prep skin for either foundation for more coverage or powder for a lighter finish.
Shades
Vanilla Glow
Cream Glow
Nude Glow
Beach Glow
Too Faced Natural Kiss Neutral Color Lip Collection $24
What It Is:
Our Natural Kiss lip palette compliments all skin tones, creating a warm-toned, pretty pout. Four shades in cream, gloss and shimmer finished provide a polished, "born-this-way" look to any natural beauty. Convenient lip brush and mirror are included for purse-ready, mess-free application.
More To Love:
Custom Looks: Mix and match our blendable cream, gloss and shimmers to transition your ever changing natural look.
Luxurious Formula: Keep lips soft and supple with our hydrating formula.
Portability: Flattened-bristle lip brush applies maximum coverage on the go, while the palette's large, convenient mirror allows for instant touch ups anytime.
Paraben & Mineral Oil-Free: Our good-for-you formula is free of parabens and mineral oils.
Too Faced Natural Flirt Makeup Collection $45
What It Is:
Grab all the attention with a naturally gorgeous look to send all the right beauty signals! Our, limited-edition Collection is filled best-selling faves for the eyes, lips and face. (A $112.50 value for $45)
More To Love:
Shadow Insurance Candlelight: Just a drop of our warm, shimmering primer applied to eyelids eliminates creasing and fading while transforming shadows into more radiant versions of their original formulas.
Exotic Eyes & Full Lashes:Achieve luminous eyes by applying Magic Mushroom shadow to lids. Lashgasm mascara completes the eye look providing fluffy, long lashes.
Bronzed & Bright Skin: Our Pink Leopard Bronzer formula brightens and perfects complexions effortlessly.
Petite Pouf: A unique retractable brush made with our signature "Teddy Bear Hair" is ideal for touch ups.
Glamour Gloss: Shine beautifully in This is Pretty and experience the gentle plumping sensation.

Includes:
Too Faced Shadow Insurance Candlelight
Too Faced Exotic Eyes & Full Lashes
Too Faced Pink Leopard Bronzer
Too Faced Retractable Brush
Too Faced Glamour Gloss
Too Magic Mushroom Eyeshadow
The Too Faced Natural Beauty Spring 2012 Collection is available now
What Do You Think Of This Collection .. I Love It .