What Is It- A 4-hour, long-wearing lip color leaves a semi-matte, crème finish in one stroke. Glides on easily with rich, velvety color that doesn't cake, feather, or bleed. Made with hydrating skin-care ingredients: Hyaluronic Microspheres provide extraordinary adhesion to lips, an exclusive polymer complex offers cushion-like feel and texture, and natural marine plant extracts Coenzyme Q10 and Vitamins A & E help smooth lips. It's has great color payoff, opaque, decent selection of colors, affordable, portable, unscented and not too drying. If you want you can always pair with a gloss for more moisture and shine.
~I just want to remind you that these lipsticks can be bought at any type of drugstore that sells Wet n Wild products, normally $2.99 for each lipstick but the price may vary on the store/location. I happen to get mine from the locale grocery store (Jewel) for buy one get one free !

The Packaging -
Their packaging is simple and straight to the point. No classy packaging or funny push-up mechanisms( black sleek outside W/ clear cap). They want their lipsticks to be the star. Although I am not complaining the design in any way, sometimes, the black tube may feel wobbly or loose. However I do not have any problems with them breaking apart.These do all have actual names, however the name is on the protective plastic wrap that seals them closed, so once you tear that off, you are left only with a number on the bottom of the tube. That pretty much drives me nuts! It also made this post difficult because I mixed a few up them up and had to then go back and match the actual names on the website to my numbers.
The Texture-

These are all mattes (with a barely noticeable sheen) and if you are looking for those with a glossy finish or a sheen, they won't work. Although they are mattes, they apply onto the lips smoothly and although it can be drying if your lips are not properly moisturized, I say they are great for the price. Fine lines are not emphasized on the lips.
Pigmentation-

What you see in the tube is what you will see on your lips. This explains why I did not do any lip swatches because they are that pigmented.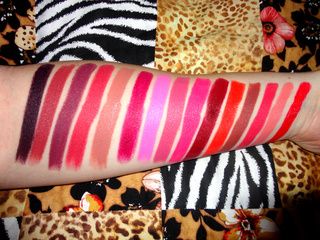 Vamp It Up--Is a very dark blackened purple. Looking for a goth type of purple? This is your friend. Gorgeous color but VERY dramatic on fair skin!
Ravin' Raisin -Is a deep plum/brown color. It's dark but not overly dark and easy to pull off.
Spiked With Rum -Is a warm dark pink/brown this another one that I think is easy to wear and good for a lot of different skin tones.
Wine Room- Is a deep dark rich red brown
Bare It All -Is a medium/light warm nude. This is a gorgeous nude, not too light or dark, not too pink or brown. I really love this one.
Sugar Plum Fairy- Is a bright cool fuchsia pink. It looks much darker in the tube actually, I had no idea it was going to be this color. I love this one!
Dollhouse Pink- Is a bright, blue-based bright bubble gum pink!
Mauve Outta Here- is a gorgeous medium cool purple/pink
Dont Blink Pink-

Is a warm medium bright pink
Cherry Bomb -Is a dark blood red. It's a little patchy, but is really nice dark red.
Purty Persimmion- Is a red /

glistening orange!
Mocha-Lious - Is a soft dark brown/tan matte!
Smokin Hot Pink- Is a warm medium bright pink
Just Peachy-

Is a very pale peach/pink.
Red Velvet-

Is a bright cool cherry red with a blue base!
Side Note- I do plan on getting the other 10 colors I couldnt fine:) I would like to have the entire collection of 26.
My Thoughts- So far this formula is amazing for me because the color lasts....and lasts...and lasts without drying or caking. Who can ask for anything more? I think these are a makeup must have , the colors are awesome ... there is a color for everyone :) whether you like pink .plum, brown or red.. which these you have them all , and who cant beat the awesome price/sale price... highly recommend " Dollhouse Pink, Red Velvet & Just Peachy "
Have You Tried Any Of These Wet N Wild Mega Shine Lipsticks ?