Wet N Wild has yet another nail polish collection out for spring this year... The Wet N Wild Coloricon Be Jeweled Collection , they are a gemstone inspired glitter in shimmering tones and lavish colors combine to create a exquisite jewel, adorned finish ....these are very similar to China Glaze Prismatic polishes, then they are NOT holographic in nature. Rather, they are multi-colored glitters in color-shifting bases, which give them a prismatic look on the nail. They're just as nice, just as smooth, just as color-changing, just as sparkly, only a little more sheer and they come in smaller bottles.
Packaging /Brush- The packaging is a small circle bottle, with a normal white plastic cap coating with 0.30 fl oz of polish .. the brush is a bigger curve flat type brush like any other nail polish wet n wild has ,great for bigger nail beds
Consistency/formula- The formula on these was really nice. It was smooth and thin , it is gritty since it is a glitter polish . They are more sheer than the China Glaze Prismatics, but still looked mostly opaque after three coats, I would add anymore then 3 coats since it going to feel heavy on your nail, since the polish is thin I do recommend to apply a colored polish under the glitter polish.
Lasting Power- I always have really good luck with glitter polish lasting really long on my fingers, with these they lasted a good 5 day before any chipping or peeling ..they have a really good staying power for being a cheaper nail polish .
Born into Privilege-light green glitter that has gold, yellow-toned green, blue-toned light green and silver small glitter and small/medium multicolor hex and round glitter.
Bow In My Presence- blue/teal/ base , pink and purple duochrome, a tiny bit of gold ,multicolored hex pieces and round glitter added for depth.
Speak When Spoken To-silvery blue dusty color , pink and purple tones , rainbow hex pieces.
The Crown Is Mine-light purple with light blue tones, changes to pink and purple , sometimes green depending on the light .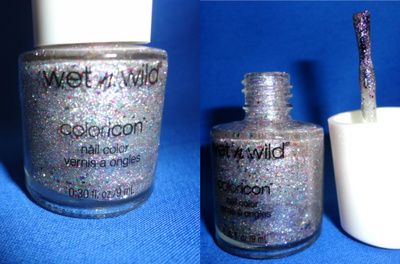 My Thoughts-Gorgeous! Need to have them in your collection if you love glittery nail polish .I haven't seen them anywhere but local grocery store., and they were $2.99 each -- not bad, but keep in mind the bottles are only 9ml as opposed to the standard 15ml bottles.but super pretty and totally worth is .
Will You Be Getting This Collection ?