Today when I was out and about looking for a drugstore stippling brush , which I found by the way , I also stopped by Target and a few other places to find the new ELF stuff and my good luck paid off cause I found lots of goodies :) Are you ready for the haul to begin !!!!
Elf 32 Piece Palette( Warm)
~I did get a chance to try this out today after I bought it , and I think this is a must have palette for spring, it a beautiful palette with light neutrals, pinks, coral and golden yellows... the colors are very pigmented beside a few light colors that are sheer, but the corals and pinks are to die for so pretty and so pigmented, and the price is amazing .. $5 dollars for 32 colors I think that a awesome deal and it not breaking the bank at all.
Elf Flawless Finish Foundation
~ This was also a product I tried out today while doing FOTD, over I like it, it lightweight, spf 15, oil free,and apply smoothly on the skin, leaving you with a flawless finish , for the stay power it last a pretty long time and I really enjoy the finish the foundation give you when apply with a stippling brush .
Real Techniques Stippling Brush -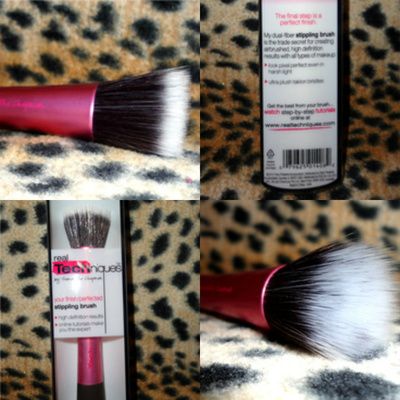 ~ This is the brush I have been one the hunt for , every time I go to ULTA it never there it alway sold out.. im so glad I found it , I used it today to apply my Elf foundation and it gave me the most flawless finish , it blended so well , almost a airbrush finish , it is a dual fiber brush with awesome plush taklon bristles, if you are looking for a inexpensive stippling brush , try this one out .. for 9.99 it highly worth it .
Elf High Definition Powder-
~ Ive heard so many great things about this products found so many great reviews and raves about it and since normally I could never find this at my Targets in the area ... I knew I had to pick it up when I found it , Im very excited to review and try this out for myself, to see what all the raving is about !!
Essie Nail Polish-
~Everyone probably already knows I have a huge nail polish problem ... while I was shopping along today , I found too highly recommended colors that everyone tells me I need to have .. I got Tart Deco ( A Dreamy Coral, Perfect For Summer) also got California Coral( Rich Juicy Not To Orange-y Coral ).. cant wait to paint my fingers and toes .
Elf Defining Eye Brush-
~I love Elf brushes, there so cheap and great quality , while I was looking around the makeup section I found this brush never seen it in store before , so i thought for a buck .. i couldn't go wrong even if I liked it or not , it is very soft and look like it would be a perfect everyday brush for eye makeup and cant wait to try this one .
Dont forget to stop by my facebook fan page The Glam Goddess !